"My beloved put his hand by the latch of the door, and my heart yearned for him."---Song of Solomon 5:4(NKJV)
Yes...yes.
There seems to be all kinds of giveaways all up and through here right now (FYI: if you scroll down to look, you won't find most of them. I tend to pull them off once I have enough participants). This morning is no different and again, the invitation goes out to a *very special kind of woman*.
I make it no secret that the Spirit (John 4:24) and I slow drag from time to time (LOL). Today, it was to a song by a group that I really do miss being on the airwaves because not only are they truly gifted but they also don't violate me with their lyrics. And who would that be? Look right below:
Cause if it's love you seek
I'll give you all the love you need
Just take my hand and I'll lead the way
If you need someone to love
I'll give you love
More than you've ever known
So much love
Love you can call your own
My heart and soul, I'll give to you
I'll be dedicated
I know that we can make it, baby
Someone to love
Someone to hold
Someone to kiss
With you, I want to grow old
And why am I so confident in saying that I'm spending time with the Spirit when I'm listening to these kinds of love songs? It's because I'm quite clear on the fact that *this kind of love* ONLY comes from the Maker---of me and my beloved. It reminds me that God has a standard of covenant love (Malachi 2:14) that he wants me to set for my life (Genesis 2:18-25) and that to settle for less is...not of him (James 1:17).
So here's the deal: In my time with him early this morning (Psalm 46:5), the Spirit brought back to my remembrance a necklace that I saw a couple of weeks ago that caught my attention mostly due to the message that was on it: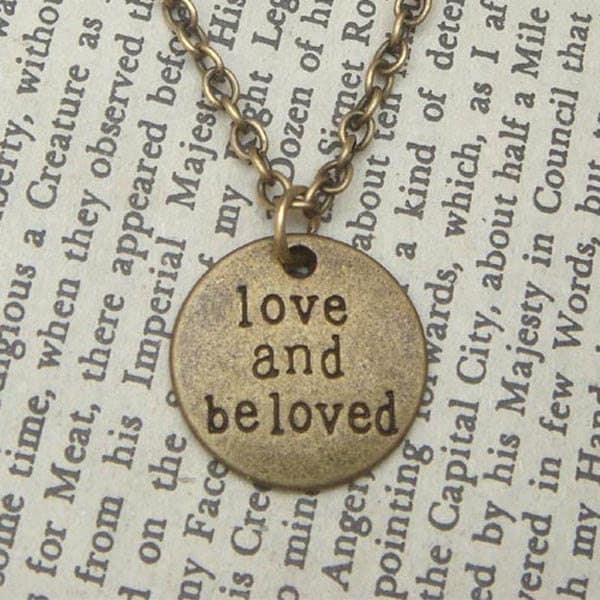 Something that the Spirit and I were discussing is that there are women who follow this blog who have never really been

loved

, who want to

be loved

and also desire to be joined to their

beloved

. Yet, the way that they have gone about having a "loving relationship" has been completely wrong.

Just yesterday, I was talking to a favorite wife of mine (Hey Rachel!) and we were discussing the fact that while it is not my personal style, I have always enjoyed how she's so avant garde while remaining very modest. Her sense of fashion is cute enough to me. Something that she said in response really stuck out: "It has never been my desire to help a man fall based on how I look. And I never want to give my husband any reason not to trust me." THAT is the sign of not only a spiritually mature woman (Hebrews 5:12-14) but also someone who is deeply loved and in love with her beloved. She doesn't care about attracting *a man*; she wants to please her *beloved* and him alone. I honor that.

And why am I bringing it up as it relates to this particular message? It's because the Spirit said something to me that I found to be quite insightful (Psalm 18:28):

"Shellie, so many of my daughters want a man to love them, but not one of my sons---not one of the guys who serves me above all others. When people enter the kind of covenants that *I put together*, it creates members of the *royal priesthood*. Therefore, more of you need to do just what my Son said: love me with your all and then love you *and then* your neighbor (your friend and companion). If you want to be loved, you need to learn more about having love for me and about self love. A man is not going to teach you that.

Only I can and until you master how to love me and love you, I'm not going to put you or 'him' through the utter torment of dealing with your low self-worth, fear and drama

. Covenant represents agreement; not succumbing to spiritual immaturity, carnal brokenness and emotional whims.

One of the main things that two healthy people, in marital covenant, are to agree upon is that they both are to love me and then one another in a way that instills faith, trust, growth, fruitfulness and great purpose

. Some women love me and themselves so poorly that they don't realize that they are not yearning for a husband; they are yearning to know what real and true love is. I have to show them *that* first...and then their beloved will manifest, in human form, what they will already know in the spiritual. He will be a confirmation rather than a revelation of what it means to have a divine love experience." (Matthew 19:6, I Peter 2:9, Mark 12:30-31, Proverbs 21:9&19, I John 4:18, I Corinthians 14:33)

WHEW!!!

And so, those necklaces up top? That is what I'm going to give away. I'm going to go with the number "5" because it biblically symbolizes "grace"...the divine favor and I sense that many of you are needing *just that* in this season.

There's also a reason why I went with brass (because I also saw some nickel ones as well). Research is *so my thing* and I read that because brass is copper and tin put together, it biblically symbolizes the merging of divinity and humanity. For the women who receive these necklaces, I am discerning (Proverbs 2) that they will enter a *new and extreme season* of "

I will give you a new heart and put a new spirit within you; I will take the heart of stone out of your flesh and give you a heart of flesh

." (Ezekiel 36:26-NKJV)

A NEW HEART AND A NEW SPIRIT THAT WILL PROVIDE YOU WITH A *NEW UNDERSTANDING* OF WHAT IT MEANS TO LOVE, BE.LOVED AND BE JOINED TO YOUR BELOVED.

So, if you're a woman who knows that you've never been loved right (according to God's standards) or well (good and healthy) in a romantic relationship, shoot me an email to

missnosipho@gmail.com

and share with me why you feel you have settled and if you think that you know what *real love* is. I'll send you one of these brass necklaces and a little message too.

It's a new season.

Shift into it.

tmm,

SRW