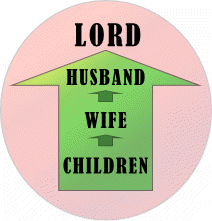 "Wives, submit to your own husbands, as is fitting in the Lord. Husbands, love your wives and do not be bitter toward them. Children, obey your parents in all things, for this is well pleasing to the Lord."---Colossians 3:18-20(NKJV)
A few weeks ago...
I read a quote that was "sadly funny" to me. I phrase it in that fashion because unfortunately, I know a lot of women who treat their husbands in the fashion that author Laura Schlessinger speaks of: "Frankly, too many women treat their husbands as accessories instead of priorities."
And while I have wanted to pen a message on this topic ever since I read it (relatively speaking), it wasn't until I received a forward from my mom this morning (Proverbs 16:33-AMP) that I truly felt released (Luke 12:12) to do so. However, before I get into that, let's do a bit of reviewing about what the role of a (Christian) husband is to be in a marriage:
An example.
A guide.
A protector.
A provider.
A leader.
A lover.
A servant.
A good and thorough leader.
That author introduced his piece by saying this:
"The first primary role in the family of the man is to show loving leadership over wife and children. Oversight of all matters in the home, both physical and spiritual. Spiritual leadership in family home Bible studies and prayers. The wife is the manager of the home, but the husband is the manager of the wife." (1 Tim 5:8)
If there's one thing that all of these write-ups have in common, it's that a husband is to LEAD HIS WIFE AND CHILDREN.
You know, there are a lot of women who claim that they want a husband but they can't even be corrected by their boss at work or graciously receive "the wounds of a friend" (Proverbs 27:6), let alone be led by a man. And perhaps that's a big part of the reason why God has been so *gracious* and *merciful* as to keep them single until they can receive true and lasting leadership. After all, being humble enough to follow a leader requires a lot of...spiritual maturity (Hebrews 5:12-14) and faith (Hebrews 11) in the Spirit's (John 4:24) "order of operation".
It makes me think of a song that one of my "big brothers" wrote once. In it,
Shannon
says "Don't get all emotional. Sometimes you need to be coachable." And ladies, that will preach! A part of the reason why you really have to allow the Spirit to bring you to the man he desires for you to be with (eh hem) *for the rest of your life* (Genesis 2:25, Matthew 19:6) is because when a man enters into a marital covenant with you, he is put into the position BY GOD (which means challenging it or bucking up to it is like challenging and bucking up to GOD), to be the leader of your home.
A leader is not someone who always does what you like or agree with. A leader is this:
Lead: to go before or with to show the way; conduct or escort; to conduct by holding and guiding; to influence or induce; cause; to guide in direction, course, action, opinion, etc.; bring; to conduct or bring (water, wire, etc.) in a particular course
Based on those definitions, what is clearly evident is that the authors that I referenced earlier are "right on the money". A godly man who transitions into a Christian husband is *ordained by God* to go before his wife and children; to show the way to his wife and children; to guide his wife and children; to influence his wife and children and to bring his wife and children into a particular course. For me, this course comes immediately to mind: "Enter by the narrow gate; for wide is the gate and broad is the way that leads to destruction, and there are many who go in by it. Because narrow is the gate and difficult is the way which leads to life, and there are few who find it." (Matthew 7:13-14-NKJV)
Oh, and isn't this just one more reason to get off of the "missionary dating" bandwagon? You decided to marry a man who is not spiritually/equally yoked to you (2 Corinthians 6:11-18) and then want out once you realize that you should have "followed the formula" in the first place, that "reality check" (Ecclesiastes 7:18-Message) doesn't automatically absolve you of the consequences that come with breaking your marriage vows (Ecclesiastes 5:1-7, I Corinthians 7:10-11, Proverbs 28:9-Message, Galatians 6:7-8). As a matter of fact, I was just talking to a wife recently about how...fascinating it is that so many divorced people *ignore* this verse in Scripture: "But I say to you that whoever divorces his wife for any reason except sexual immorality causes her to commit adultery; and whoever marries a woman who is divorced commits adultery." (Matthew 5:32-NKJV) That's a part of the reason why this blog even exists: to prevent you from having to go through all of that kind of stuff.
And so, as we continue along the journey of wife preparation, I encourage you to seek the Father for some divine wisdom (James 1:5) on if you are indeed "coachable" and if you can indeed "follow the leader" because while we are here to HELP (Genesis 2:18) our covenant partner, that speaks to supporting him not running the show. A wife who runs her home is a wife who is totally out of her position. It's out of order, it leads to confusion and God is not the One who is the source of that (which only leaves to other options---us or Satan---and that ain't good...I Corinthians 14:33&40).
Which brings me to the email from my mom...
Filled with personal examples and Biblical teaching, Unglued will equip you to:
Know with confidence how to resolve conflict in your important relationships.
Find peace in your most difficult relationships as you learn to be honest but kind when offended.
Identify what type of reactor you are and how to significantly improve your communication.
Respond with no regrets by managing your tendencies to stuff, explode or react somewhere in between.
Gain a deep sense of calm by responding to situations out of your control without acting out of control.
The more I counsel couples, the more I see that there is a HUGE MISCONCEPTION that walking down an aisle will miraculously uproot issues. If a man is irresponsible the day before his wedding, there's a pretty good chance (great even) that he will be irresponsible the day after it. And if a woman cannot humble herself (Luke 14:11) the day before her wedding, dressing up in some gown and throwing a big party is not going to change anything. When you're single, *this is the time* to grapple with the root causes of "why you do what you do" and learning how to make wise decisions when your emotions are trying to get you to do otherwise (Jeremiah 17:9) is something that will have you *way ahead of the game* when it is time to provide divine help (HELP NOT LEADERSHIP) to the leader of your home: your husband.
You can purchase the book
here
. It might even be a nice gift for some wives you know who have yet to really grasp this:
"Better to dwell in the wilderness, than with a contentious and angry woman." (Proverbs 21:19-NKJV)
Or this...
"'Be angry, and do not sin': do not let the sun go down on your wrath, nor give place to the devil." (Ephesians 4:26-27-NKJV)
*Covenant is serious*. Here's to learning how to be "coachable" so that your (future) marriage can win at the game of love and life!
tmm,

SRW