So...
I'm not really sure if I've actually been taking a break over the holidays because I tend to process this time of year differently than many others do. But in between writing, I have caught a couple of new films. One of them is
A Case of You
(Justin Long, Evan Rachel Wood). I enjoy Justin Long as an actor so that's what initially reeled me in (no pun intended). Anyway, here's the trailer:
I won't give a ton of it away; however, I do want to share why it helped to inspire this particular post. In the trailer, you will see how Sam (Justin Long) creates a person that he thinks Birdie (Evan Rachel Wood) will really be drawn to. And just how does he figure this out? By reading her Facebook profile and posts (I'm telling you, that social media can be...something.)
By the time that she does start to fall for him, he begins to have doubts. And with just cause being that he exposed her to the person *he thought she would want* rather than the one that he actually was.
Throughout the movie, Sam says things like the following:
"I'm exhausted."
"Do you even know what I like?"
"I've been trying to become who I thought you wanted that I don't believe you like or even know the real me."
"I didn't want to put my [true] self out there and there not be a connection."
There was also something that one of his book editors said that stood out. "[You are] going to suffocate in your own fear."
Fear of what? Fear of Sam being his true and authentic self.
It might surprise you how many times I have sat in (pre)marital sessions and one or both of the individuals have been like "You want...what?!?" or "You don't like...what?!?" or "You plan to do...what?!?" and a big part of it was because during the dating process, the focus was more on trying to "land each other" rather than actually *get to know one another*.
That's why I can't stand that whole "You complete me" foolishness, um stuff that many people say (and believe). Where in the Word does it ever say that another person is to complete you? Actually, what it says is this: "
But let patience have its perfect work, that you may be perfect and complete, lacking nothing
." (James 1:4-NKJV) If you let patience do its thing, then you will be complete, with or without another person. That's why it's my belief that if a relationship is healthy (which is something that *all of us* should aspire to have), it will not "fill a void". Instead it will actually *be a form of surplus*.
A MAN IS NOT TO *COMPLETE* YOU. HE IS TO *COMPLEMENT* YOU.
IN ORDER FOR A MAN TO DO THAT, YOU HAVE TO KNOW WHO YOU ARE---FIRST.
Back in July, I made the announcement that I would be periodically doing a giveaway for covenant puzzle pieces (you can [re]read about it
here
). I have connected with a manufacturer that I really like and so I am able to afford to do it more than once. What they look like is this: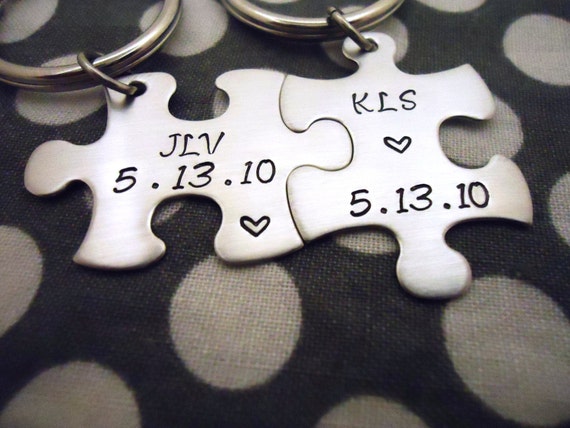 Except it actually has the name of the woman and the date of the post that she responded to on one puzzle piece while the other one is blank. The women who receive these can get the right-side engraved themselves whenever their *complement* comes. Not only is it a reminder of God giving the desires of our hearts (Psalm 37:4) but also that things happen in *his time* not ours (Ecclesiastes 3:11, Acts 1:7-Message).
Anyway...
The reason why I feel led to give this one more round as 2013 comes to a close is because I discern that a lot of women, one way or another, have been a lot like Sam. They are so busy trying to "get their other puzzle piece" that they haven't spent time truly investing in themselves so that they can know who really is their best fit.
So if you are a woman who desires to be married...
AND
You know that you need to devote some time intp really getting to know you in a more intimate way first...
AND
You would like a sign from God that he has heard your petition for a mate in the meantime...
SO
This puzzle piece will serve as a confirmation of this very fact...
Shoot me an email to missnosipho@gmail.com.
*This round will be open until New Year's Eve at 5pm(CST)
*.
(THE GIVEAWAY IS NOW CLOSED UNTIL FURTHER NOTICE)
In the meantime, embrace all of your customized "puzzle pieces".
And *be patient* as they work to make a bigger picture!
Luxuriate,
SRW