"Set up signposts to mark your trip home. Get a good map. Study the road conditions. The road out is the road back. Come back, dear virgin Israel, come back to your hometowns. How long will you flit here and there, indecisive? How long before you make up your fickle mind? God will create a new thing in this land: A transformed woman will embrace the transforming God!"---Jeremiah 31:21-22(Message)
"Now the Lord is the Spirit; and where the Spirit of the Lord is, there is liberty."---2 Corinthians 3:17(NKJV)
So...
Last night, I read an article entitled "
Why I Bought Myself an Engagement Ring
".
Now I'll say this: I don't know if it's my age or what, but no matter how much pop culture tries to cram it down my throat, I will never been able to rock with women being referred to as female dogs. Why? *Because we're not female dogs*.
I'm sharing that because if you decide to read the piece, she references her friends in that way. I'm thinking as a term of endearment. I didn't want you to be jarred if you saw that.
Moving forward...
The article is basically talking about how a lot of her friends have engagement and/or wedding rings and her decision to get a ring that she liked that could basically pass as an engagement ring (especially since she said that it would only fit on her ring finger when at the time that your purchased it). Not because she's currently in a relationship but because shoot, *she liked the ring*. Again, you can click on the link to read the entire piece. However, this is how the article ended:
I immediately texted my ex-boyfriend. We talk every day. Like I said: best friend, but not my husband.

"I bought a fancy ring in Tanzania."

"Great!"

"Well, someone had to."

"Don't be stupid."

I think I'm half-joking when I call it my engagement ring. I think about what the nuns told me. It's a commitment to myself and a reminder that I'm not wrong, or crazy, or flawed to wait for the right person. I saw the sun rise over Mount Kilimanjaro this morning while writing this, looking at my ring sparkle as my fingers flew across the keyboard. I'm happy to just be with me for a little bit longer.
I went to bed with that being one of the last articles on my mind...
Then I woke up with an idea. A notion. A concept---actualized.
Although I personally prefer to leave my ring finger "open" until I am married (so that when the time comes, there will be no question what having a ring there symbolizes and signifies), wouldn't it be awesome to invest in an *embracement ring*? Not necessarily embrace from the angle of "to take or clasp in the arms; press to the bosom; hug". I mean, that's cool and all but let's go deeper:
Embrace:
to take or receive gladly or eagerly; accept willingly; to take in with the eye or the mind; to take up (a new idea, faith, etc); adopt
I mean embrace from the perspective of rocking something that symbolizes/signifies that you're willing to be the kind of woman that the Message Version of Jeremiah 31 speaks of. A woman who will be open to embracing a transforming God and all of the plans that he has for you as you walk in true spiritual liberty.
Being single is not about sitting around waiting for a husband...
Being single is about being whole and *truly embracing* all of the experiences that come with that season of life.
I did a bit of research on what rings on different fingers actually represents.
One article
said this about the middle finger that caught my attention:
Left Middle Finger

A ring worn on the left middle finger doesn't necessarily stand for anything. However, since the middle finger is central to the hand and is the longest finger, a ring on this digit can symbolize power and responsibility, if you wish. This finger is also a good choice if you want to show off a ring without making a statement about your life.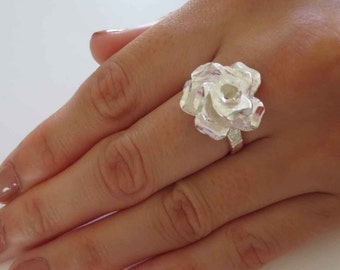 *Nice*. 2 Timothy 1:7 tells us "
For God has not given us a spirit of fear, but of power and of love and of a sound mind
" and Galatians 6:5(NCV) states "
Each person must be responsible for himself
".
By fully living, each and every day, with power and love and a sound mind, by making a point to be response-able for our lives, there's so much we allow ourselves to embrace.
To receive gladly...
To accept willingly...
To take in and to take up...

From the Father.
So although I oftentimes talk about getting things for your hope chest, as we're hours away from 2015, do something special for you and *strongly consider* getting an EMBRACEMENT RING. Imagine how *adorned* it will make you feel and how much of a witness it can be when people say to you...
"That's a beautiful ring that you have on."
And you reply "Thanks, it's my embracement ring."
"I'm sorry, it's your what?"
"It means that I willingly accept my journey and all that God has for me."
A beautiful way to witness, indeed!
Adorn,
SRW