So...
As I was working on something, I went back to the
How He Asked
website and I noticed---a bit of a pattern:
*Everybody's nails were done*. And what really got my mind to going is I'm assuming all of these ladies were surprised by their proposal which means that taking care of their nails was a part of their routine; that it was at least one part of themselves, they made the time to pamper.
To tell you the truth, I don't know a lot of women who make the time to truly pamper themselves. Now, I'm not just saying people who dress up or put on make-up before heading out the door (because a lot of those women still do those things for the attention of others rather than for themselves). I mean women who do a lot of what's
on this list
on a continual basis:
1. Have a Picnic for One
If the weather permits, grab a book or a stack of magazines, a cozy blanket, and a basket filled with your favorite tasty treats. Find a shaded spot in the park by a colorfully-leafed tree and just chill.

2. Chocolate, Baby!

Scope out your neighborhood for a gourmet chocolate shop and treat yourself to three luscious truffles (or four…or five). Make sure you eat them slowly, savoring the flavors; make the experience last.

3. Soak in a Hot Tub in the Dark

Add some essential oils (lavender and mint are really lovely), dim the lights, light a candle, close your eyes, and give yourself a full hour to unwind.

4. Enjoy High Tea

Just because you aren't British doesn't mean you can't enjoy a posh mid-afternoon snack. Indulge in scones, clotted cream, and a few petit fours, topped off with a pot of specialty tea.

5. Indulge in a Warm Bed and tub of Haagen Dazs

It may sound cliché, but nothing soothes me after a long day of work like a dose of mindless reality television and a tub of Sticky Toffee Pudding under the covers.

6. Head North with Tunes

Drive—with no destination in mind. Blare music, roll down the windows, and fire up the seat warmers. Something about being alone in the car heading nowhere is infinitely calming.

7. Breathe Deeply and Consciously
You can do this anywhere for a quick pick-me-up. Take at least 30 deep, conscious, slow breaths—four seconds in, four seconds out. Sit quietly while you're doing it, avoid distractions, and keep your eyes closed.

8. Whiten Your Teeth

Several over-the-counter kits really work! And you no longer have to commit to drooling through those disgusting strips every night for two weeks—you can whiten in just one application. White teeth make you look brighter and more energized. And chances are, if you look brighter, you'll feel that way, too.

9. Take a Naked Nap

(Alone!) Make your bed with the softest sheets you own (or buy new ones!), surround yourself with lots of pillows, slip out of your clothes, and enjoy.

10. Smell the Flowers
Literally. It has been proven that floral scents are mood manipulators, and flowers can actually make you happy. Treat yourself to your favorite bouquet and place it somewhere easily visible—and smellable.

Doing one or two of the things on this list each week will help you feel a little pampered. And when we work as hard as we do, we all need to feel pampered.
And yes, as a bonus: PAINT YOUR NAILS (AND TOENAILS) A FUN COLOR.
Because when you are in the habit of treating your own self with extreme (EXTREME) kindness and care, you find yourself not being able to settle for less. Especially in your intimate relationships.
I've mentioned in a
former post
that I believe this is going to be an "ON FIRE" YEAR for many of the faithful followers of this blog. *On so many levels*. So, in honor of encouraging you to pamper yourself, I will be doing a giveaway throughout the year. I "happened upon" (Proverbs 16:33-AMP) a woman who actually makes a nail polish named (whoo-hoo!) "Hearts On Fire":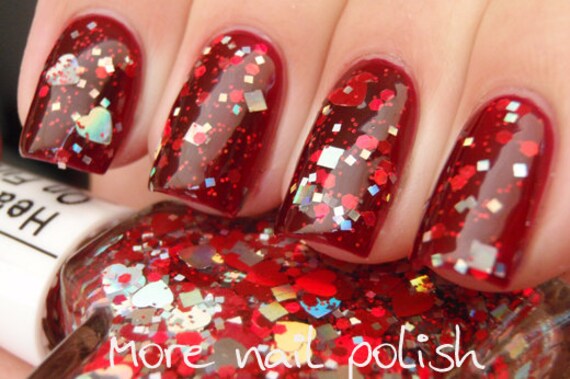 You know that was my cue because 1) it has "On Fire" in the name; 2) if you look at the top of this page (on the left-hand side), there *is* a heart on fire and 3) I dig how it appears to be one big party in a bottle.
Special note: Although this giveaway is currently closed, do look for this to be mentioned again late in the year. The name of the polish is simply to good to not share a couple of times!
I Corinthians 13:4 tells us that love is kind and remember the Word tells us that we are to love others *as we love ourselves* (Mark 12:31).
Therefore...
It's not just "OK" to pamper yourself.
It's *imperative* that you do!
Luxuriant,
SRW