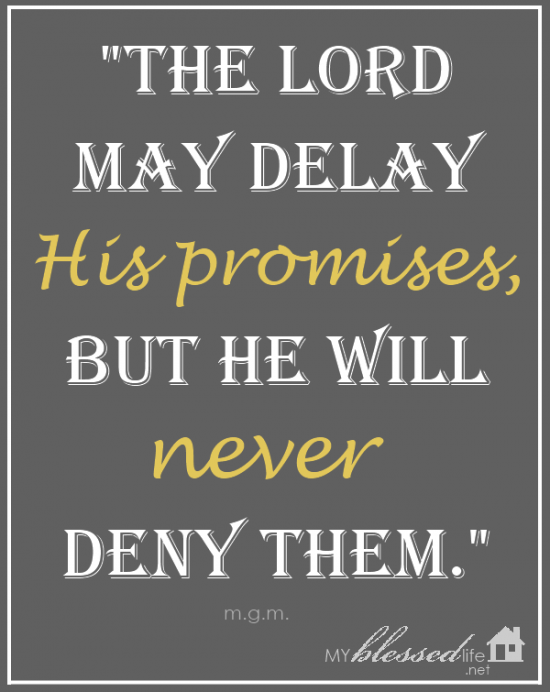 This morning...
As I was doing some praying about the next devo that I'll be penning tonight or tomorrow, I felt an urgency to actually share some of what will be said "over there"...over here.
I'm not sure who this applies to, but it's more than one, who are finding themselves in the position of doing *just what Abraham and Sarah* did.
God made them a promise.
They decided it was talking too long to manifest.
And so they went out and *made something (one) happen*.
And being that this blog is devoted to preparing women for *marital covenant*, this is the part that I encourage each and every woman to hone in on:
"Then God said: 'No, Sarah your wife shall bear you a son, and you shall call his name Isaac; I will establish My covenant with him for an everlasting covenant, and with his descendants after him. And as for Ishmael, I have heard you. Behold, I have blessed him, and will make him fruitful, and will multiply him exceedingly. He shall beget twelve princes, and I will make him a great nation. But My covenant I will establish with Isaac, whom Sarah shall bear to you at this set time next year.' Then He finished talking with him, and God went up from Abraham."---Genesis 17:19-22(NKJV)
Every time I read that, especially as it relates to this blog, I get chills. A big part of it is because it reminds me of the assurance found in Ecclesiastes 3:14(NKJV): "
I know that whatever God does, it shall be forever. Nothing can be added to it and nothing taken from it. God does it, that men should fear before Him
."
When God came to Abraham about having a son (just like we should be looking more for *God to come to us* about getting married and having a husband), he spoke to the fact that a big part of it was for the purpose of *establishing covenant*. And God's covenants are meant to last forever.
Yet look at what Sarah trumped up out of fear, desperation, impatience or all three:
"Now Sarai, Abram's wife, had borne him no children. And she had an Egyptian maidservant whose name was Hagar. So Sarai said to Abram, 'See now, the Lord has restrained me from bearing children. Please, go in to my maid; perhaps I shall obtain children by her.' And Abram heeded the voice of Sarai. Then Sarai, Abram's wife, took Hagar her maid, the Egyptian, and gave her to her husband Abram to be his wife, after Abram had dwelt ten years in the land of Canaan. So he went in to Hagar, and she conceived. And when she saw that she had conceived, her mistress became despised in her eyes."---Genesis 16:1-4(NKJV)
Now here's what we have to remember about all of this:
"After these things the word of the Lord came to Abram in a vision, saying, 'Do not be afraid, Abram. I am your shield, your exceedingly great reward.'
But Abram said, 'Lord God, what will You give me, seeing I go childless, and the heir of my house is Eliezer of Damascus?' Then Abram said, 'Look, You have given me no offspring; indeed one born in my house is my heir!'
And behold, the word of the Lord came to him, saying, 'This one shall not be your heir, but one who will come from your own body shall be your heir.' Then He brought him outside and said, 'Look now toward heaven, and count the stars if you are able to number them.' And He said to him, 'So shall your descendants be.'"---Genesis 15:1-5(NKJV)
A PROMISE HAD ALREADY BEEN MADE FROM GOD TO ABRAHAM.
So, when Sarah decided that she didn't have a son and so she would conjure up a way to "make one happen", she was already waaaaaaaaaaay out of order (and so was Abraham for allowing it all to go down too). God didn't need her to "help him give her a son" anymore than God needs us to "help him bring us to our husbands". Therefore, what we need to spend time in prayer on are the following:
1) Did God actually promise a husband?
2) If so, what is the purpose behind the promise?
3) Are we in the place of "waiting on him" or "making an Ishmael"?
Because although the Lord did bless Ishmael (just as he can bless marriages that were not a part of his perfect will), Ishmael was not a part of the covenant. Rinse and repeat: Ishmael was not a part of the covenant. *This blog is about preparing women for 'Isaac', not 'Ishmael'*!
And so, if you know that you are in a situation where you are "tired of waiting on God" and so you're putting things together yourself, my prayer is that you will STOP. You don't want to go through all of the drama and heartache that was caused as the result of Ishmael. You want to have just what Isaac means "he laughs", which to me equates lots of joy. You want to be in true covenant because it brings true joy. You don't need to be in "making the most out of our choices...and consequences".
Remember...
A promise is "a declaration that something will or will not be done, given, etc., by one".
A promise is also "something that has the effect of an express assurance; indication of what may be expected".
God knows what he promised you. (He also knows what he didn't so again, seek wisdom-James 1:5, Matthew 7:7-8). Be open to what needs to be done to be brought to what he already said would happen. But don't try and "beat him to his promises".
"But those who wait on the Lord Shall renew their strength; They shall mount up with wings like eagles, they shall run and not be weary, they shall walk and not faint."---Isaiah 40:31(NKJV)
"Wait on the Lord, and keep His way, and He shall exalt you to inherit the land; When the wicked are cut off, you shall see it."---Psalm 37:34(NKJV)
"Wait on the Lord; Be of good courage, and He shall strengthen your heart; Wait, I say, on the Lord!"---Psalm 27:14(NKJV)
Love is patient.
Therefore...
Love can wait.
Luxuriant,
SRW