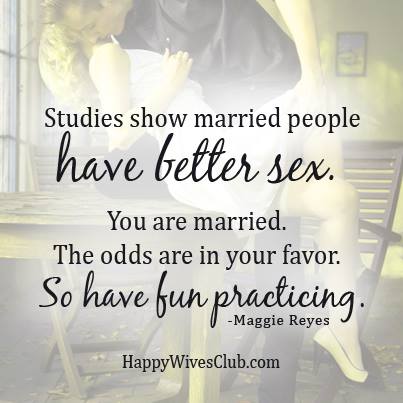 "However, brethren, I could not talk to you as to spiritual [men], but as to nonspiritual [men of the flesh, in whom the carnal nature predominates], as to mere infants [in the new life] in Christ [unable to talk yet!]

I fed you with milk, not solid food, for you were not yet strong enough [to be ready for it]; but even yet you are not strong enough [to be ready for it], for you are still [unspiritual, having the nature] of the flesh [under the control of ordinary impulses]. For as long as [there are] envying and jealousy and wrangling and factions among you, are you not unspiritual and of the flesh, behaving yourselves after a human standard and like mere (unchanged) men? "---I Corinthians 3:1-3(AMP)
Just about all of my single male friends...
Have heard me say two things: "If you're not ready for marriage then you don't need to be having sex" and "If every woman decided not to 'give up her goodies' without a wedding ring, the options that are left for men would not be all that appealing".
My point? I've come to realize that it's not so much that single men don't want to get married...
It's that women are so "accommodating" (or is it desperate?) that a lot of guys already have some of the benefits of having a wife---without being an actual husband.
Therefore...
It has been my belief for quite some time now that men (and people in general for that matter) who engage in sex before marriage are like children who want privileges without the responsibility that comes with it. You know, it's not something that is talked about nearly as much as it should be but within a marriage, *sex is a big responsibility* (in walks "
7 Things to Remember About Sex
"). Immature people are not responsible. *Mature ones are*.
That said...
As believers and/or disciples (John 17), a part of our calling on this earth is to pursue spiritual maturity (Hebrews 5:12-14) and as with the testimony of the Apostle Paul, a part of what comes with that is "putting away childish things" (I Corinthians 13:11).
To think that you should be able to do whatever you want without consequences is childish.
To think that God should bless disobedience is childish.
To think that something as divine and sacred as marriage should be birthed out of lust? That too is childish.
My personal stance on this was actually confirmed just this morning as I was checking out an article entitled "
Sex Is Cheap: Why Young Men Have the Upper Hand in Bed Even When They're Failing in Life
". Here's an excerpt:
When attractive women will still bed you, life for young men, even those who are floundering, just isn't so bad. This isn't to say that all men direct the course of their relationships. Plenty don't. But what many young men wish for—access to sex without too many complications or commitments—carries the day. If women were more fully in charge of how their relationships transpired, we'd be seeing, on average, more impressive wooing efforts, longer relationships, fewer premarital sexual partners, shorter cohabitations, and more marrying going on. Instead, according to the National Longitudinal Study of Adolescent Health (which collects data well into adulthood), none of these things is occurring. Not one.The terms of contemporary sexual relationships favor men and what they want in relationships, not just despite the fact that what they have to offer has diminished, but in part because of it. And it's all thanks to supply and demand.
It makes me think of the opening animation for the movie
Think Like a Man
and how Kevin Hart's monologue/narrative talks about how marriage used to be a goal for men because (eh hem) they knew that it was the only way that they were going to have sex with a woman.
So, tell me something...
Why are so many women out here complaining about the fact that no men want to get married while in the process, *they are having sex with them*? Is it that they don't see the correlation? Or is it more that they simply don't want to?
I'll give you an example. Recently, I was talking to someone about an individual they know who is a porn addict, is sleeping with his girlfriend and living with her too. By the way, he also doesn't have stable employment. Just about everyone in their world has advised against them getting married but in the couple's mind, marriage will "fix everything".
Yeah...let us not forget that marriage was created in perfection and even Adam and Eve made some mistakes (Genesis 2 & 3). More and more, I'm seeing that marriage is for grown folks (GROWN FOLKS)---and by that I mean, *spiritually grown folks*.
OK, so back to the couple...
If the young woman is not requesting that her boyfriend deal with his porn addiction...
If the young woman is still having sex with him and *while he's addicted to porn*...
If the young woman is living with him...
If the young woman is paying a lot of the bills...
How in the world (IN THE WORLD?!?) is she possibly supporting him becoming the kind of man that he needs to be in order to lead her household?
A person doesn't lean how to grow up by merely getting everything they want when and how they want it. They get it by knowing that many desires require work.
Don't believe me? Check it: "
The soul of a lazy man desires, and has nothing; But the soul of the diligent shall be made rich
." (Proverbs 13:4-NKJV)
Therefore, giving a man physical pleasure without requiring a spiritual commitment is not making him a stronger person. It's weakening him. It's not helping him to "man up". It's actually babying him.
And trust me, I counsel far too many women who resent their husbands for acting like children. And do you know the one thing that most of them have in common? They "set it out" before "jumping the broom". They rewarded them for not putting not putting forth much effort.
They enabled them to believe that they deserve something without doing any...
Vowing...
Committing...
Maturing...
So, the next time you're with your guy and things are getting all hot 'n heavy...
Think about the greater goal:
Is it sex now?
Or is it *married sex* later?
Do you want to experience intimacy with a spiritually grown man?
Or do you want to baby your boyfriend with sexual sin?
Hmph. It reminds me of something that the Lord once said to me when I was going through masturbation detox: "Shellie, masturbation is a pacifier and you are not a baby. Babies need pacifiers. Adults don't." Hmph. Someone could say the same thing about fornication, wouldn't you say?
My prayer is that we'll all choose wisely.
Luxuriant,
SRW