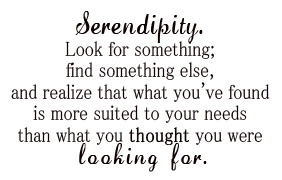 So...
Over the course of this blog, I have said before that one of my favorite movies is
Serendipity
(John Cusack, Kate Beckinsale). There are tons (TONS) of reasons why. One of the main reasons is because I am a straight up "signs and wonders" gal (Daniel 4:1-2). It's also because I find the word to be a nice complement to this Scripture:
"But as it is written: 'Eye has not seen, nor ear heard, nor have entered into the heart of man
the things which God has prepared for those who love Him.' But God has revealed them to us through His Spirit. For the Spirit searches all things, yes, the deep things of God."---I Corinthians 2:9-10(NKJV)
Jeremiah 17:9 tells us that the heart is deceitful. Therefore, putting your trust in it, in some ways *especially when it comes to choosing a mate*, is not reliable. Or stable. Or beneficial to your present---or your future. Your heart can trick you. Manipulate you. And ultimately disappoint you. Shoot, just think of some of the guys that you've fallen for in the past. (Checkmate.)
However, being that 2 Samuel 22:31(NKJV) says "
As for God, His way is perfect; the word of the Lord is proven; He is a shield to all who trust in Him
", 2 Samuel 2:33(NKJV) says "
God is my strength and power, and He makes my way perfect
" and Proverbs 37:23(NKJV) says "
The steps of a good man are ordered by the Lord, and He delights in his way
", what we do know is that God makes no mistakes (NO MISTAKES).
Therefore, if we're open to letting him lead us, in letting him bring us to our own special companion (just as he did with the Woman in the Garden of Eden-Genesis 2:18-25), we can be sure that while the journey may not be what we expected and the guy that God brings us to may not be the kind of person that we initially planned or even prayed for, it can be our own brand of serendipity: more suited to our needs than what we were looking for.
That said, in walks one of my favorite scenes from the movie.
I've shared it before yet, I sense that some of you will take this as your own "serendipity moment". A sign that something unexpected is happening. And you know what? That's more than OK.
God is perfect. Follow his orders. Not your ideals.
"Yet even in certain defeat, courageous Trager secretly clung to the belief that life is not merely a series of meaningless accidents or coincidences, but rather it's a tapestry of events that culminate in an exquisite, sublime plan."
That sounds a lot like this: "
The lot is cast into the lap, but the decision is wholly of the Lord [even the events that seem accidental are really ordered by Him].
" (Proverbs 16:33-AMP)
Oh, the video clip cut off in a weird place so...here's the ending.
Mushy. Just like a good romantic comedy should be. ;-)
Stay on the lookout. Life tends to be a huge connect-the-dots experience!
Luxuriant,
SRW