"For since the beginning of the world men have not heard nor perceived by the ear, nor has the eye seen any God besides You, Who acts for the one who waits for Him."---Isaiah 64:4(NKJV)
OK...
Between watching
With This Ring
last night and penning a piece for a publication on the benefits of waiting over settling, reading
an article
about a woman who married herself this morning (???) and listening to someone talk about how tired she is of waiting, I took that as a universal/God sign (not necessarily in that order-Daniel 4:2-3) to pen this.
As I was praying for the "On Fire" women recently, it was interesting the story that came to mind: Jacob and Rachel. Only, it wasn't from the angle that it's oftentimes told: Jacob's willingness to work for years due to this love for Rachel (for the record, that is sweet and all, but it's also a really big lesson in sowing and reaping. He and his mother tricked Esau and Isaac, his mother's brother tricked him---be careful what you sow!-Galatians 6:7-8).
For the first time, I thought about it from Rachel's perspective...
Sure, the Word tells us that it years seemed like days for Jacob (Genesis 29:20).
BUT WHAT ABOUT FOR RACHEL?
WHAT WAS IT LIKE TO WAIT ALL OF THAT TIME TO BE WITH HER BELOVED?
For whatever the reason, the Bible doesn't give us insight into that and honestly, it always a good idea to take culture into account. She was promised to Jacob, by her father Laban. Therefore, even if she was tired of waiting to get married, I'm not so sure she could just "up and marry someone else". Eastern culture tends to take their vows a lot more seriously than (sadly) Western civilization does (Ecclesiastes 5:1-7).
However, seven years is still a long time and based on all of that foolish bickering that she and her sister Leah did later up the pike, I'm led to believe that Rachel truly did care deeply for Jacob. After all, together they made Joseph and Benjamin. Reportedly, Joseph was Jacob's favorite out of all of his kids. A true "love child" indeed (Genesis 37).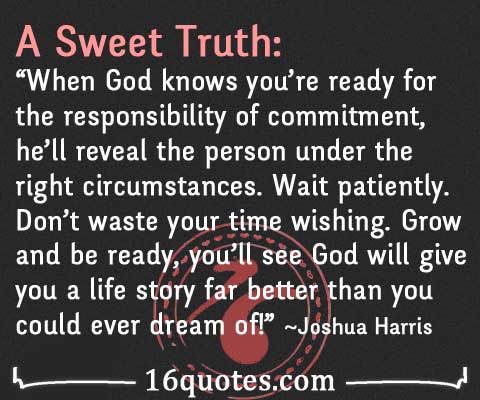 Anyway...
Although we don't know exactly what Rachel was thinking, I believe there is something that we all can learn from her. She didn't abandon her post. She didn't run away and marry someone else. I venture to say that since Jacob felt like seven years was only a few days (seven years is a long time, y'all), she wasn't nagging him to death either.
Rachel knew what she was waiting for and so...she waited.
She waited in all of the ways that waiting is defined:
She waited this way: "to remain inactive or in a state of repose, as until something expected happens".
She waited this way: "to be available or in readiness".
She waited this way: "to look forward to eagerly".
She waited this way: "to delay temporarily or be temporarily delayed".
She even waited this way: "to remain neglected for a time".
What this reminds me is...
God never told us that it would be easy to wait.
He did tell us this, though:
"But as it is written: 'Eye has not seen, nor ear heard, nor have entered into the heart of man the things which God has prepared for those who love Him.' But God has revealed them to us through His Spirit. For the Spirit searches all things, yes, the deep things of God."---I Corinthians 2:9-10(NKJV)
And here's where the connect-the-dots come in. Isaiah 64:4 and so many other verses, speak on the importance of waiting; not on a man or a relationship or a wedding but on the Lord. And just like Rachel did for Jacob, we oftentimes have to wait in all of the ways that she did. And yes, sometimes, although to God "a day is as a thousand years" (2 Peter 3:8), it seems like forever to us.
The thing that we have to keep in mind is this:
WHILE WE ARE WAITING...
GOD IS PREPARING...
It can be easy, even addicting, to lose sight of that, but don't.
Year one...
Year two...
Year five...
Year...whatever...
It may feel like nothing is happening but if you *tap into your spirit*, you'll see that God's got your back. In ways that you could never dream possible because...well...he's God.
So, are you tired of waiting?
That understandable. And human.
You were made to reflect God's image, though (Genesis 1:26-28).
You are a daughter of the Most High (Psalm 82:6).
You are truly special. Especially to him (I Peter 2:9-10).
Waiting gets a lot easier to bear when you get your mind off of the waiting itself...
And you remember just what it is that you are waiting for. And on.
God first. And he always knows what he's doing.
(Deuteronomy 32:4, 2 Samuel 22:31-&33)
His best for you second. That's always going to top what you have in mind. For yourself.
(James 1:17)
When you settle in the fact that God cannot lie (Titus 1:2) and he said he can do things that will truly blow your mind...
Doesn't that make the waiting...worth it?
Yes. I agree.
Adorn,
SRW