Recently...
I
read an article
about a single woman that caught my attention. You can click on the link to read it. For now, here's the gist:
The 37-year-old Salt Lake City, Utah, woman has been to more than 80 weddings, catching the bridal bouquet a record 46 times, edging out other single women in the room like a defensive back intercepting a touchdown pass.

The irony, of course, is that Jackson is still single.

"I've pretty much crushed that 'next-to-be-married' myth," she tells PEOPLE. "I've had boyfriends, sure. But I'm liking the single life. Besides, if I were married, I'd have to give up my favorite sport."

While she didn't set out to notch a world record – she says she's been to so many weddings due to her family's connections to musical theater and their church – she decided to apply for it after learning that the previous wedding-bouquet-toss record holder, Stephanie Monyak from Pennsylvania, had caught only 15 bouquets.
I'm not sure what surprises me more. How many bouquets she's caught *or* how many weddings she's been to (LOL). However, the reason why I'm sharing this is because I really appreciate her take on the experience---her overall take on life.
She's not somewhere sulking about not carrying a bridal bouquet.
She's at weddings having a ball catching them!
There are a lot of women I talk to who say they are tired of being single. Yet you know what? A part of me wonders if they even *are* truly single yet. Single does not only mean "not married". Synonyms for single include "distinct", being "whole", being "special", being "exclusive" and being "undivided". That's why I like James 1:4(NKJV) so much. It reminds me that sometimes the waiting process is about getting to a point and place of truly being a single person:
"But let patience have its perfect work, that you may be perfect and complete, lacking nothing."
As someone who does quite a bit of marriage counseling, I'll attest to the fact that a lot of people literally regret who they chose in a partner simply because they did not select them in a state of *wholeness*; they chose them in a state of real *internal lack* and *brokenness*. In other words, they weren't seeking someone to share their full and amazing life with. They were looking for someone to fill all kinds of voids. Hmph. When Exodus 20:3 tells us not to have any gods before us, that includes our spouses. God is who heals us (Psalm 147:3). It's way too much pressure (plus it's pretty unrealistic-Ecclesiastes 7:18-Message) to expect anyone else to.
Besides, when you're whole and healthy, it tends to show.
Like Jamie Jackson, a truly single person, has a good perspective on things.
When I went to look up the definitions for the word "bouquet", one was "a bunch of flowers" while another was "a compliment". As a single woman, when's the last time you had fresh flowers in your home? When's the last time you could rattle off a list a things that make you simply divine?
To me, these are examples of what it means to "catch your own bouquet". It's taking out moments to *celebrate yourself* rather than waiting for someone else to do it. After all, a guy is not supposed to *show you who you are*. He's supposed to *affirm many of the things that you already know about yourself*. Before he ever arrived.
This brings me to the picture quote up top...
Nothing in the article that I read gave me any indication that Jamie doesn't think she'll be married someday. She's simply having a blast in the meantime and that quality is something that's going to be very appealing to her future beloved. Whether she already knows him or not.
And you know what? When you get to a point and place of believing that you are special and unique----when you are living in a space where you are really and truly single---there's no telling who you will attract into your life as well. Who will want to give you flowers and compliments because they find it so appealing that you were doing it for yourself. Before they ever came along.
That said...
I recently came across a sale on some earrings that I couldn't resist.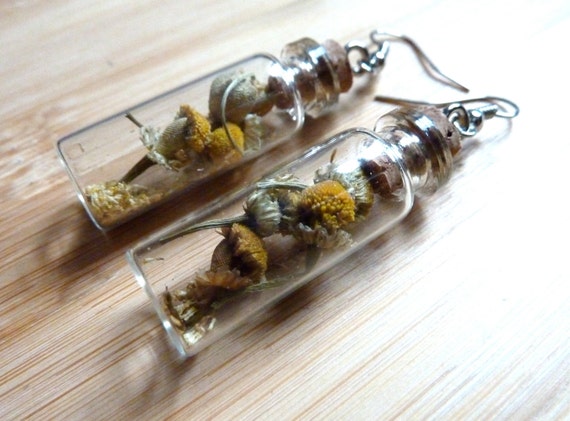 The flowers inside are dried chamomile. I'm big on symbols (Daniel 4:2-3) and chamomile represents patience and serenity---two things that all single women should have a lot of. The giveaway is over (as of 2/20); but if you caught this late and feel that this post really speaks to you, shoot me an email at missnosipho@gmail.com and I'll see what I can do. ;-)
In the meantime, a friend of mine released a song last week that complements this post quite well:
Bloom, "On Fire" ladies!
Adorn,
SRW