"Abraham didn't focus on his own impotence and say, 'It's hopeless. This hundred-year-old body could never father a child.' Nor did he survey Sarah's decades of infertility and give up. He didn't tiptoe around God's promise asking cautiously skeptical questions. He plunged into the promise and came up strong, ready for God, sure that God would make good on what he had said."---Romans 4:19-25(Message)
Not too long ago...
I was having a conversation with someone who was like "We've got to get you married! We've got to get you out there."
Out. Where? (LOL) Oh, I've been out and honestly, the more space I get away from that time/era/season in my life, the less appealing it is.
When the person implied that I was picky about my approach, I said something that I would turn into a T-shirt line if I had the cash flow right now:
"I'm not picky. Just focused."
I then went to share with them that I'm focused on praying for and about my future husband rather than simply "praying for a man" in general. I don't want *a man*. I want God's best man for me---and the only One who knows who that is and can bring me to him is the Lord (Genesis 2:22) at just the right time (Acts 1:7-Message) *is* the Lord. And since the Lord is omnipotent and as for my individual journey (Psalm 33:15), all he's asked me to do is "be still" (Psalm 46:10), pray for wisdom (James 1:5) and acknowledge (Proverbs 3:5-6) that his ways are perfect (Psalm 18:30), that's exactly what I'm going to do.
Now look...
I'm not saying that means you should be doing the same thing. We're not toy soldiers. We all have our own journeys. Even when it comes to our love lives. What I am saying, though, is that when you seek God (Matthew 7:7-8) about what *he specifically desires for you to do* and then you focus on that, the following quote begins to ring oh so very true: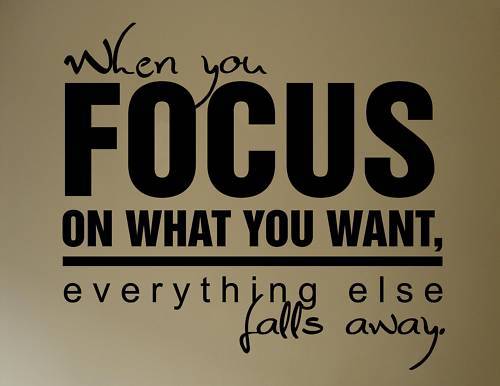 And as you focus, God starts showing you things that you wouldn't have noticed when you were worried (Matthew 6:25-34), stressed out (Philippians 4:6-7) or so consumed with what you wanted that you failed to acknowledge God's amazing and abundant love for you (Jeremiah 31:3).
I'll give you an example...
Something that several wives have said to me is while they feel *loved* by their husbands, what they don't feel is *nourished and cherished*. It's biblical for them to want those things too:
"Husbands, love your wives, just as Christ also loved the church and gave Himself for her, that He might sanctify and cleanse her with the washing of water by the word, that He might present her to Himself a glorious church, not having spot or wrinkle or any such thing, but that she should be holy and without blemish. So husbands ought to love their own wives as their own bodies; he who loves his wife loves himself. For no one ever hated his own flesh, but nourishes and cherishes it, just as the Lord does the church. For we are members of His body, of His flesh and of His bones. 'For this reason a man shall leave his father and mother and be joined to his wife, and the two shall become one flesh.'"---Ephesians 5:25-31(NKJV)
Nourish means "supply with what is necessary for life, health, and growth". It also means "to cherish, foster, keep alive, etc." and "to strengthen, build up, or promote".
Cherish means "to hold or treat as dear; feel love for". It also means "to care for tenderly; nurture" and "to cling fondly or inveterately to".
This is how Christ loves us. His church.
This is also how a husband is to love his wife.
Prayer, rather than pining over some dude (or the thought of some dude), reminds me of these things.
It helps me to set (and keep) a standard to wait for the man who is going to supply me with what I need in order to become a more vibrant, a healthier and more spiritually mature woman!
It helps me to understand (Proverbs 17:27) that "he" is to be tender towards me and to nurture me.
*Because the Word says so.*
It also helps me to pay special attention to confirmations along the way of what the kind of man will be like "in real time".
I'll give you a couple of examples.
One of them is, fascinatingly enough, a little boy.
A dying little boy
:
You can click on the link to read the story but basically a little boy who is currently so ill that he cannot walk or talk gave his Make-A-Wish trip to a female friend of his. He always wanted to go to Florida but sent 10-year-old Emma instead. She took a cut out of Levi with her so that he could "experience the trip" in pictures.
Whew! That boy raised the bar to a whole 'nother level of nourishing and cherishing! And you know what I like so much about the story? It's the fact that if a young terminally-ill child knows how to love in that way, a grown man can certainly learn how to. No excuses.
One more. OK, so how about there's a man in Detroit who walks (check it) *42 miles* back and forth to work each day. (Can you imagine?!?) A 19-year-old man by the name of Evan Leedy heard about it and
started a fundraiser for him
. So far, Evan has been able to collect thousands (and thousands) of dollars for James. Plus, several car dealerships have donated vehicles too.
Not only is that an example of "If God can care for the sparrows, he will certainly take care of us" (Matthew 10:31), but it's also an example of nourishing and cherishing. In this case, for a complete stranger.
Prayer time has revealed to me that I want a man with the heart of Levi and Evan. Towards me and towards humanity in general. And so, since so many wives have told me that they literally crave this from their own husbands, these are the type of character traits that I look for when I talk to me I already know and when I meet new ones.
Fine comes a dime a dozen. It really does.
A nourisher and cherisher? Who sets his standard based on the bible?
He doesn't come by every day.
Again, you are going to have your own path...
All I'm saying is don't be so distracted by wanting to be in a relationship...
That you lose sight of what it means to be in the right one.
The world will call it picky.
God will honor you for remaining focused.