"He heals the brokenhearted and binds up their wounds."---Psalm 147:3(NKJV)
So...
Several years ago, I heard/saw a pastor do an illustration. On the pulpit, he had a big hear that was made out of cardboard pieces. He had random folks come out of their seats to get a piece of the heart and then he went on with his message.
Afterwards, he asked for the heart pieces back...
Some folks left early.
Some folks let their children play it them and so the pieces got all mushy.
Some folks lost them.
The pastor said "This is what happens when you have sex outside of marriage. You end up giving away pieces of yourself that you might not get back." Hmph:
"Do you not know that your bodies are members of Christ? Shall I then take the members of Christ and make them members of a harlot? Certainly not! Or do you not know that he who is joined to a harlot is one body with her? For 'the two,' He says, 'shall become one flesh.' But he who is joined to the Lord is one spirit with Him.
Flee sexual immorality. Every sin that a man does is outside the body, but he who commits sexual immorality sins against his own body. Or do you not know that your body is the temple of the Holy Spirit who is in you, whom you have from God, and you are not your own? For you were bought at a price; therefore glorify God in your body and in your spirit, which are God's."---I Corinthians 6:15-20(NKJV)
The consequences of sexual sin.
THE CONSEQUENCES OF SEXUAL SIN.
The Word tells us what one of them are: we "one ourselves" to people who are not deserving. It's like my mother says: "The consequences of sex do not change just because the circumstances do." And even once we confess our sins and we're forgiven and cleansed (I John 1:9-10), *nowhere in the Bible* does it say that our consequences automatically disappear. If anything, it warns us (WARNS US) to be careful about what we sow because we certainly can/shall reap it (Galatians 6:7-8).
I've been giving this all a lot of thought as God has been doing something, especially unique, over the past several months in my life. Although I have reaped a lot (A LOT, so if you're a virgin, *please stay that way*. One orgasm can cost you...years of heartache, processing and healing), in some ways, I've been getting some of my heart pieces back.
I'll give you two examples...
There's one guy...whew this one guy (LOL). Fine back then. Fine now. Ambitious back then. Close friends with the President's spiritual advisor and owns two offices in two different states now. Had a connection with me way back when and when I decided to see what he was up to after over 15 years, we still have a strong rapport now. In fact, out of the 14 men I've "one'd myself with", he's the only one (THE ONLY ONE) who has---well had---the title of "the one who got away".
I found him (which was a little challenging because I don't do social media). Left a voicemail at his job. He called that evening. We talked a long time that night. Some "residue" was definitely (DEFINITELY) still there...but I had to let him go.
Why? He's divorced and I take *the words of the Lord* very seriously when it comes to how divorced people are to act and, by default, be treated: "
Now to the married I command, yet not I but the Lord: A wife is not to depart from her husband. But even if she does depart, let her remain unmarried or be reconciled to her husband. And a husband is not to divorce his wife
." (I Corinthians 7:10-11-NKJV) This is a part of what this blog is all about. It's a reminder that we're not supposed to act like the world when it comes to marriage (Luke 6:26-Message). We're supposed to honor *marital covenant* which is designed to be unto death (you can read a powerful piece on that
here
and
here
).
I've said it before: Divorced people are not single. Even on their tax forms, they are not single. This means that *single people should not be the stumbling blocks of possible reconciliation for divorced individuals who have already made a marital covenant with someone else* (I Corinthians 8:9, 2 Corinthians 5:18-19). And so, if you take marital covenant seriously, divorced people should not be seen as an option.
And what if the divorced person's spouse is already married to someone else? Yeah, that is a bit of a slippery slope. In those instances, I would recommend *a lot of prayer* and even more reading of the links that I shared. When a divorced person's ex gets married, they do take away their choice to reconcile. Oh, but what if that marriage doesn't last (and success rates on second and third marriages tend to plummet)? It's all so complicated. Marital covenant isn't designed to be...complicated. Be humble (Luke 14:11). Seek godly counsel (Psalm 12:15 & 24:6). Be willing to "suffer for righteousness's sake" if need be (I Peter 3:14). Loving God and his Word, will and way should always (ALWAYS) come before loving someone else (Mark 12:30-31, Exodus 20:3). If it doesn't, they are a god. That's not good.
And what if you are the one who is divorced? Again, please read those links. Forgiveness is paramount to a believer/disciple's life and walk (Matthew 6:14-15). Vows are based on *feelings*. They're based on *commitment* (Ecclesiastes 5:1-7). And what if your spouse is married to someone else (because otherwise, you should remain single too; that's the Word)? Be sure that you have done *all that you can on your end* to bring about peace and restoration (Matthew 5:23-24). There is actually one divorced guy I know who I find to be super awesome. He didn't understand covenant until after he divorced and married someone else. And to this day, guess what? He and his second wife tend to the health needs of the first wife: "It's the least I can do," he publicly stated. "I made a covenant with her and the wife I have now understands and agrees." (Malachi 2:14) Amazing how divorced people think it's OK to treat their ex like the scum of the earth when *the covenant made* speaks to them being treated as anything but. At the very least, they should be doing this: "
You have heard that it was said, 'You shall love your neighbor and hate your enemy.' But I say to you, love your enemies, bless those who curse you, do good to those who hate you, and pray for those who spitefully use you and persecute you..
." (Matthew 5:43-44-NKJV) If you're divorced and you see them as an enemy...the Word reveals what to do. Out of obedience to God and, believe it or not, your own healing too!
So back to my ex...who has an ex...
Divorced people are not options for me. Therefore, as fine and...ambitious (LOL) as he is now, he's no longer seen as "the one who got away". He's seen as *the man with an ex-wife*. So, we had a few conversations, I got some clarity and that furthered my healing.
I now think of him with peace and resolve...
And the piece of my heart that he once had? I got it back.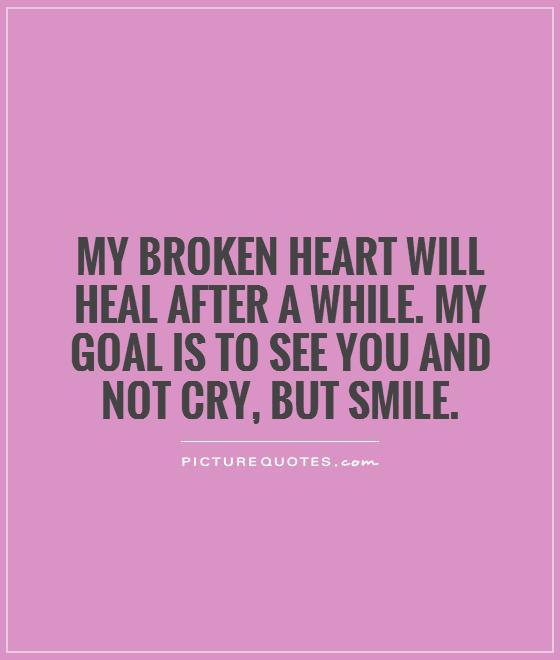 And then there's my first love. Based on what I knew about love at the time.
I oftentimes say "Finding an ex on Facebook? That is you. Running into them in Kroger's? That's probably God." And a couple of months ago, that's just what I did: ran into him in Kroger's. He's still a cutie. There's still a playful banter. I do remember how he got and held my attention. Yet do you know what I realized? He's a lot like my late father and when we initially hooked up, he was filling some emotional voids that I didn't realize I had in relationship to my dad. The last two years of my father's life, we did a lot (A TON) of healing. So, now I could see my first-love-ex for who he was: a man and not a void-filler. And I realized that what I accepted then was not enough. And so to accept it now? That certainly would not be enough! Who knows what the future holds (other than God, of course--Revelation 1:8). For now, what I know is I had never ever officially broken up with my first (which actually explains some of the men who followed). Therefore it was empowering for the brokenhearted 19-year-old-in-the-almost-41-year-old-body to say "I deserve the best. This is not it!"
I always thought "my first" would have a piece of me.
I'm in the process of getting that piece back too!
It all makes me think of
an article
that I checked out on forgetting someone you used to love (eh hem, have a relationship with). This particular point is stellar:
Understand the true reasons that made you love him and you might find that it was loneliness, love addiction or even the need for compensation. In this case you need to fix your personal flaws to feel good instead of trying to get him back.
Patience completes us (James 1:4). Everything is made beautiful in its time (Ecclesiastes 3:11). Timing is our Father's business; we just have to honor and respect it (Acts 1:7-Message).
A lot of women wonder why they're not married and God is like "You're wondering where your husband is when you really need to be far more concerned about where your whole heart is so that someday you can give all of it to him!"
(And won't it preach?!?)
The Message Version of Proverbs 21:2 tells us "
We justify our actions by appearances; God examines our motives.
" In your past relationships, in your desire for a relationship now, what were/are your motives? To represent covenant on this earth? Or to not be lonely? Or because you're horny? Or because all of your friends are with someone?
Love addiction. I remember talking to one woman who had the classic signs of love addiction. That's an unhealthy way to be as an individual and a surefire way to scare off a man. Any man. *No (good) man wants to be your fix. And no man can be your savior either*. You can click
here
to read 40 signs. Right now, I'll share 15 of 'em:
*You are very needy when it comes to relationships.
*You fall in love very easily and too quickly.
*Sometimes, when you are lonely and looking for companionship, you lower your standards and settle for less than you want or deserve.
*When you are in a relationship, you tend to smother your partner.
*More than once, you have gotten involved with someone who is unable to commit—hoping he or she will change.
*When you are attracted to someone, you will ignore all the warning signs that this person is not good for you.
*More than once, you have gotten involved with the wrong person to avoid being lonely.
*You are terrified of never finding someone to love.
*You have a high tolerance for suffering in relationships. You are willing to suffer neglect, depression, loneliness, dishonesty—even abuse—to avoid the pain of separation anxiety (what you feel when you are not with someone you have bonded with).
* More than once, you have neglected family or friends because of your relationship.
*You have no impulse control when you are in love.
*You pursue someone you are in love with even if he or she is with another person.
*If you are part of a love triangle (three people), you believe all is fair in love and war. You do not walk away.
*Even if you are not in a relationship, you still fantasize about love all the time— either someone you once loved or the perfect person who is going to come into your life someday.
*You feel powerless when you fall in love—as if you are in some kind of trance or under a spell. You lose your ability to make wise choices.
Yes, a lot of us need to step back and ponder our personal flaws before *ever* getting married!
Our husbands will thank us for it!
Yeah, I could go on with this topic for days...
I'll stop now, though. ;-)
Bottom line, you deserve a good man. He deserves a whole woman too.
It can never hurt to step back and ponder (Proverbs 4:26)...
If you indeed do have all of your heart pieces back...
And then doing what God requires of you to get them. If you don't!
Adorn,
SRW