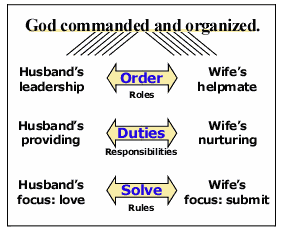 OK...
This one is gonna be (relatively) short 'n sweet.
A year ago this month, I posted a video of a particular kind of male bird that, during the courtship phase, prepares a home for a prospective female bird and then spends a significant amount of time trying to get the female's attention. If you didn't see it (or you want to see it again), you can check it out
here
.
The Word makes it clear of the roles of a husband. One of them is
provider
. And even before you join your life to him, as I oftentimes say "Since a man is supposed to love you as Christ loves the Church then he needs to prepare a place for you as Christ is doing for us now." (Ephesians 5:25-33)
"Let not your heart be troubled; you believe in God, believe also in Me. In My Father's house are many mansions; if it were not so, I would have told you. I go to prepare a place for you. And if I go and prepare a place for you, I will come again and receive you to Myself; that where I am, there you may be also. And where I go you know, and the way you know."---John 14:1-4(NKJV)
And in walks a study that I checked out today to support this resolve. Basically the title says it all: "
Male Economic Dependence On Women May Be A Cause Of Infidelity Among Couples, Study Finds
". God does things decently and in order (I Corinthians 14:40) and he has an order for how he does things for a reason. And a purpose. When a man is out of purpose, it can be emasculating and he may seek "manhood" in some really unhealthy and counterproductive. When a woman is out of purpose, it can cause her to be unsure of herself which oftentimes, in turn, makes her controlling. Check out "
Married to Jezebel: It's All About Control
".
I've been listening to Usher sing a hook on repeat today. I'm feelin' it:
If there's a question of my heart
You got it
It don't belong to anyone but you
If there's a question of my love
Don't worry
Baby I've got plans for you
Baby I've been making plans
Baby I've been making plans for you
I really like that: He's intentional. He's...*making plans*. For his woman.
Just like a man SHOULD.
Stay in God's order for things.
Trust him and the process.
He sees now and the future.
He's got you.
Adorn,
SRW