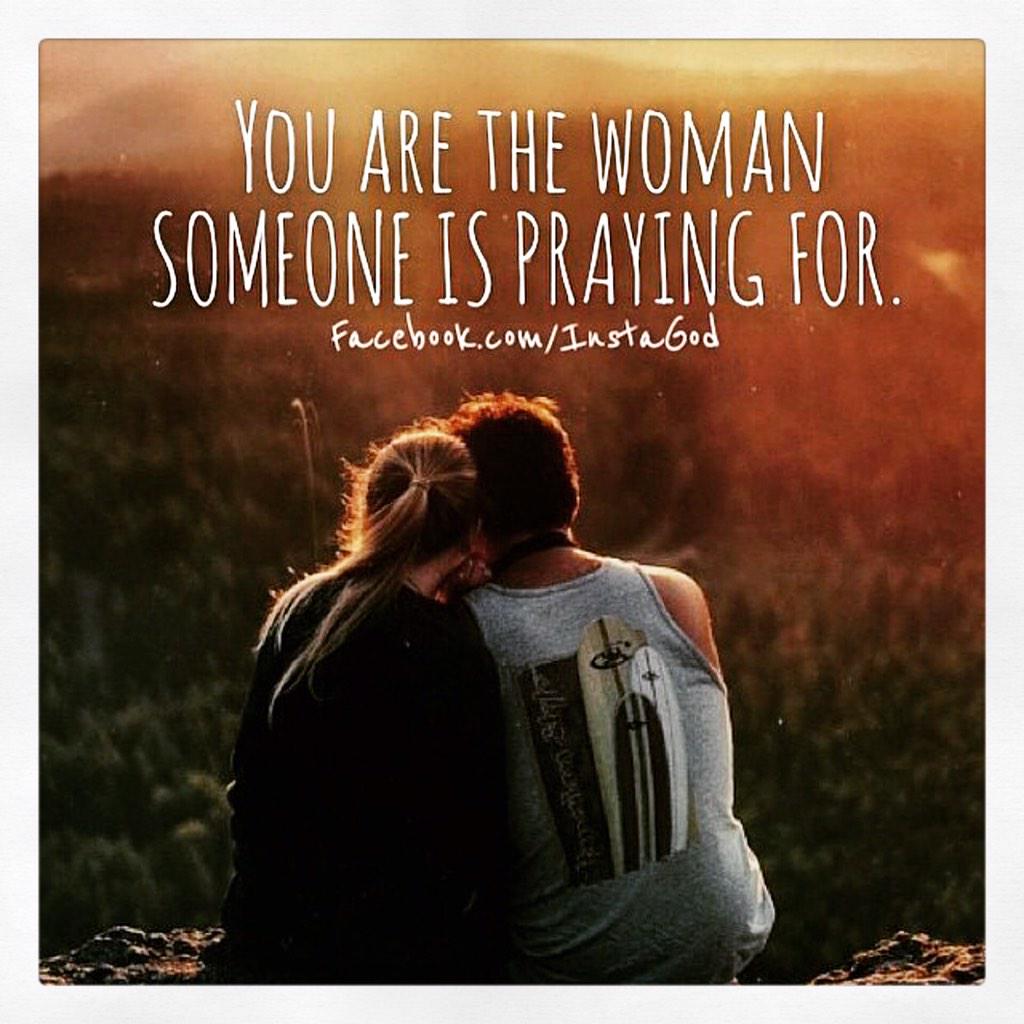 "Be happy [in your faith] and rejoice and be glad-hearted continually (always); be unceasing in prayer [praying perseveringly]; thank [God] in everything [no matter what the circumstances may be, be thankful and give thanks], for this is the will of God for you [who are] in Christ Jesus [the Revealer and Mediator of that will]."---I Thessalonians 5:16-18(AMPC)
This week...
I saw two things that brought a smile to my face. One was a video that actor Lance Gross posted on his one-year anniversary to his wife. I really dig wedding photos like this. I'm pretty used to brides being thrilled, but look at how ecstatic---and peaceful---Lance looks: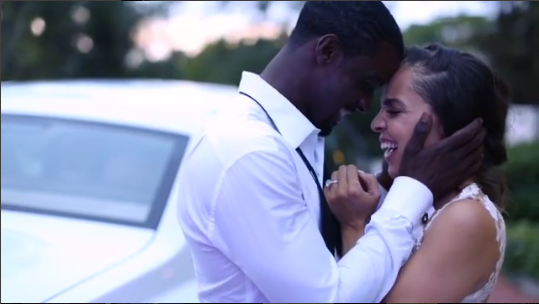 You can click
here
to watch the IG video. The caption he put under it was this:
One year ago today you gave me another reason to smile. Another Blessing to count. Plus a higher level of love and friendship to cherish. I love you today, tomorrow & Forever on Mrs. Gross...
Then I saw something that actress Meagan Good (co-author of
The Wait: A Powerful Practice for Finding the Love of Your Life and the Life You Love
) posted about her husband/marriage on her IG:
When he loves you exactly the way you are.. No need to shrink.. he wants you to shine ✨
Click
here
to see the actual shot. Here's a similar one from the shoot, tho:
Marriage is supposed to be something that brings joy and clarity. It's supposed to be the kind of relationship that makes you better than you were before experiencing it. Unfortunately, so many people are not paying attention to (or is it flat-out ignoring?)
GOD'S PURPOSE FOR MARRIAGE BETWEEN ONE MAN AND ONE WOMAN *FOR LIFE*
that they are not adhering to the warning signs---ones that are telling them that who they are dating (or desiring to date) is *nowhere near* God's will and plan for their lives.
They are not a blessing...
They are not going to let them shine...
Especially as LIGHT in the world (Matthew 5:14).
As I was pondering all of this (Proverbs 4:26), specifically as it relates to the "On Fire" women, God shared a very simple yet profound point:
Shellie, many of my daughters pray for their future husbands. What they also need to do is pray that he is praying for them.
Boom! And amen!
Just last night, I penned a devotional that is loaded with Word as it specifically relates to marital covenant (hit me up at missnosipho@gmail.com if you want to check it out). Bottom line, we really have allowed the world to influence us about marriage *far too much*.
ONLY TWO BELIEVERS WHO ARE STRIVING TO BE WORD-ABIDERS (JOHN 8:31-32) AND SELF-DENIERS (MATTHEW 16:24), TWO PEOPLE WHO ARE GOING TO GET *AND REMAIN* MARRIED ACCORDING TO THE BIBLE'S STANDARDS---NOT POP CULTURE, PEOPLE'S OPINIONS OR THEIR OWN CARNAL DESIRES (JAMES 1:14-15)---SHOULD GET MARRIED.
And two people who fit into this category are two people who pray---*without ceasing*.
Growing up, my mother had
My Utmost for His Highest
in the house. God brought that to my remembrance as I was penning this. Here's one article on the purpose of prayer:
Prayer is not a normal part of the life of the natural man. We hear it said that a person's life will suffer if he doesn't pray, but I question that. What will suffer is the life of the Son of God in him, which is nourished not by food, but by prayer. When a person is born again from above, the life of the Son of God is born in him, and he can either starve or nourish that life. Prayer is the way that the life of God in us is nourished. Our common ideas regarding prayer are not found in the New Testament. We look upon prayer simply as a means of getting things for ourselves, but the biblical purpose of prayer is that we may get to know God Himself.

"Ask, and you will receive…" (John 16:24). We complain before God, and sometimes we are apologetic or indifferent to Him, but we actually ask Him for very few things. Yet a child exhibits a magnificent boldness to ask! Our Lord said, "…unless you…become as little children…" (Matthew 18:3). Ask and God will do. Give Jesus Christ the opportunity and the room to work. The problem is that no one will ever do this until he is at his wits' end. When a person is at his wits' end, it no longer seems to be a cowardly thing to pray; in fact, it is the only way he can get in touch with the truth and the reality of God Himself. Be yourself before God and present Him with your problems— the very things that have brought you to your wits' end. But as long as you think you are self-sufficient, you do not need to ask God for anything.

To say that "prayer changes things" is not as close to the truth as saying, "Prayer changes me and then I change things." God has established things so that prayer, on the basis of redemption, changes the way a person looks at things. Prayer is not a matter of changing things externally, but one of working miracles in a person's inner nature.
Prayer changes me and then I change things.
Prayer is not a matter of changing things externally, but one of working miracles in a person's inner nature.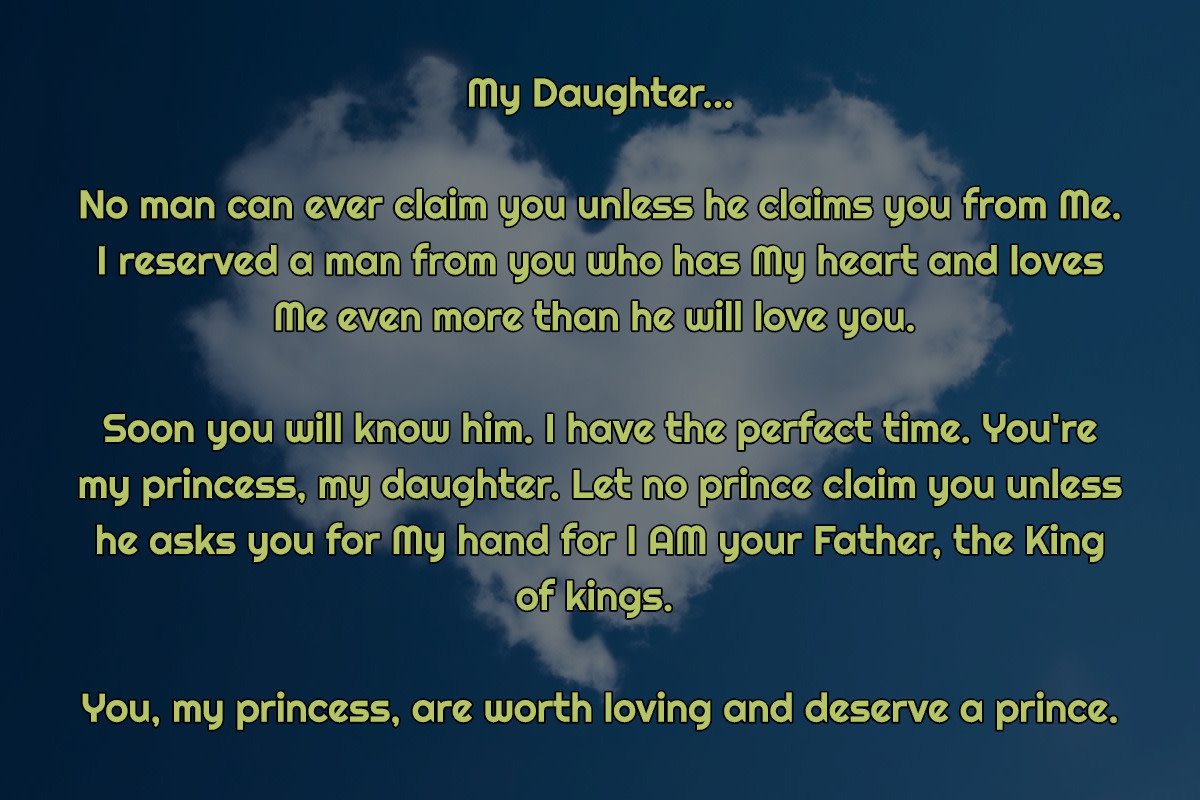 It can't be said enough. It really can't. I Corinthians 2:14(NKJV) tells us "
But the natural man does not receive the things of the Spirit of God, for they are foolishness to him; nor can he know them, because they are spiritually discerned.
" MARRIAGE IS OF GOD. EPHESIANS 5 IS JUST ONE EXAMPLE OF THAT. Yet do you know how many people get married in their "natural state" rather than their spiritual one? How many people foolishly choose the wrong partner and take a very foolish approach to the roles in marriage because they are allowing their hearts to lead them (Jeremiah 17:9) rather than the Word?
MARRIAGE WAS NEVER DESIGNED TO WORK WITHOUT GOD---*EVER*.
IN ORDER TO ENTER INTO HIS BEST FOR YOU, YOU NEED TO SEEK HIM *NOW*.
YOU ALSO NEED TO PRAY THAT THE FUTURE LEADER/PRIEST OF YOUR HOME WILL ALSO SEEK HIM. *WITHOUT CEASING*.
That doesn't start *after* your wedding...
That begins right now!
AS YOU ARE PRAYING FOR YOUR FUTURE HUSBAND...
YOU NEED TO PRAY THAT HE'S PRAYING FOR YOU.
SO THAT YOU BOTH CAN SEE VIA THE SPIRITUAL RATHER THAN THE NATURAL...
SO THAT YOU'LL BOTH MAKE THE RIGHT CHOICE. *GOD'S CHOICE*.
I feel led to pray that more women will desire to pray in this fashion...
So, if you need some "touching and agreeing" (Matthew 18:19-20), hit me up.
We're living in a time when people are making a mockery of marriage...
Satan would have it no other way (John 8:44, I Peter 5:8, John 10:10).
We should want to our marriage to be a light in this world...
An example of what godly covenant looks like in the flesh.
That's a BIG FEAT!
It's best to pray about it now...
And pray that "he's" praying about it now too...
CONSTANTLY!
Proverbs 12:4,
SRW