Preparing single women for marital covenant (which is far more than being a bride, having a wedding...or even *just* a marriage!)...
Wednesday, April 19, 2017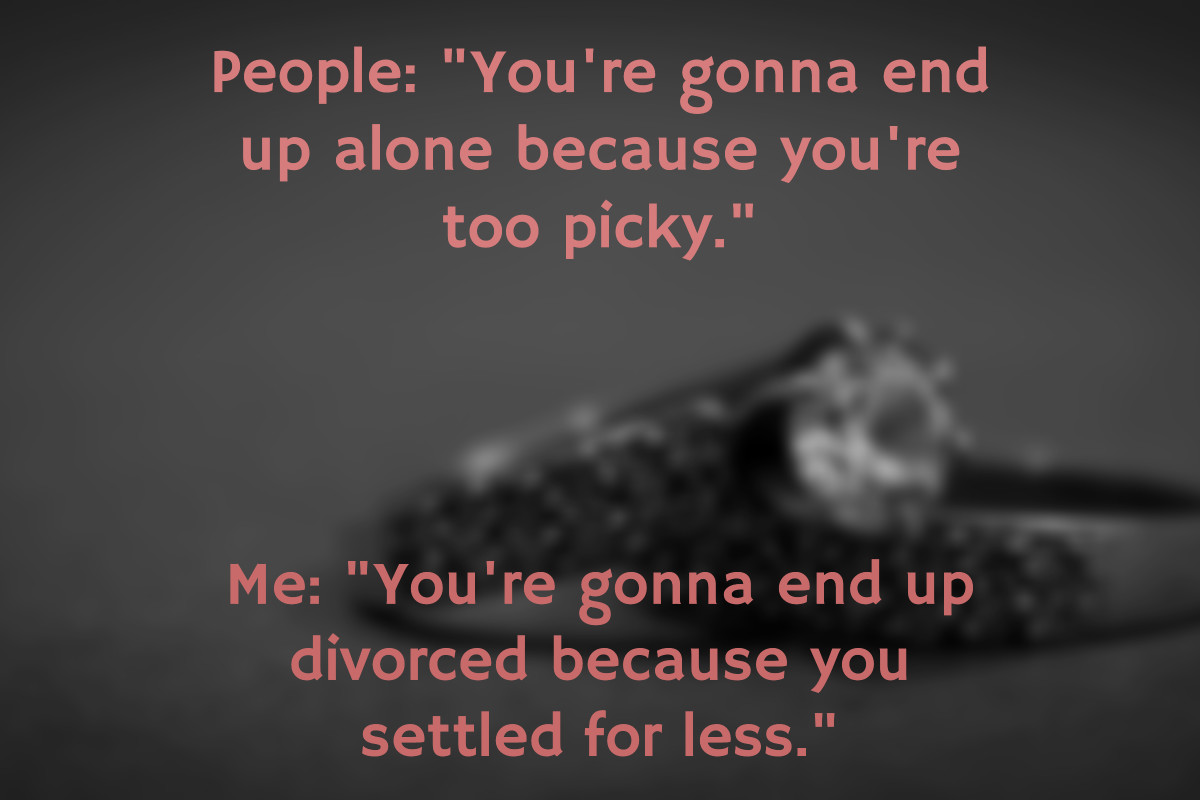 "I know that whatever God does, it shall be forever. Nothing can be added to it, and nothing taken from it. God does it, that men should fear before Him."---Ecclesiastes 3:14(NKJV)
Hey Ladies,
For those who decided to partake in the "first love project" (the post right under this one), I got you covered. There were quite a few responses, so I'm getting everything in order. If you're reading this and still want to get in on it, shoot me an email at missnosipho@gmail.com. Trust me...the sooner you can get your heart whole, the easier it will be to discern who God's best is for your heart---and your life.
Which brings me to the title of this message...
Last Friday, while having a conversation with my mom, she said something that was so funny. And little typical of her. See, she has a wheat allergy. If any of you do, then you already know that makes eating options...challenging, to say the least, because so many foods have some level of wheat in them.
Anyway, for the most part, my mom eats well. But sometimes she rebels and has something she knows isn't good for her body...even if her taste buds believe otherwise. Her latest rebellion? A Krispy Kreme donut.
My mom lives in South Africa. By way of New York (native), Nashville (career) and then there. She's been there for 20 years now. Over the course of that time, she's watched a lot of things from America come that way (a double-edged sword), and so sometimes when something that reminds her of home makes its way, she tries it. This time, it was that particular kind of donut.
It was her review of it that had me be like "Yeah...that's PERFECT for the 'On Fire' gals."
"You know how Krispy Kreme donuts usually smell and taste so good? I had one recently and...it wasn't. It just wasn't the same." We were Skyping, so I was laughing at her face all turned up in disappointment.
Personally, I'm more of a Shipley's girl myself but I got the point...
I made me think of how I felt when I went on my "
get my heart pieces back
" tour a couple of years ago. So many of them were just like that Krispy Kreme donut for my mom. Here's what I mean by that:
There could be all kinds of reasons why the donut didn't live up to my mom's expectations...
Maybe due to the changes in her diet, her palate is different.
Maybe her memory...embellished a bit.
Maybe it was just a bad donut.
Or maybe, just maybe, she doesn't like donuts as much as she used to...
Maybe she's changed.
When Isaiah 27:14(NKJV) tells us "
Wait on the Lord; Be of good courage, and He shall strengthen your heart; Wait, I say, on the Lord!
", there are a few things to keep in mind. We need to remember that one definition of heart is "center of emotions" and Jeremiah 17:9 tells us our hearts have a tendency to deceive us, which is why we need to guard it (Proverbs 4:23). One way to guard our heart is to really *make the time* to think about our past---past "loves", past boyfriends (because sometimes those are not one in the same), past sex partners (same here) and even past crushes or "personal delusions" (because there is NOTHING like being in a relationship by yourself. It happens more than a lot of us would care to admit!).
Sometimes, we're so busy pining over the past and/or wanting someone from our past *or* someone in the present to be like someone from our past, that we think we're being *rejected* when really what's happening is that we're being *spared*. Not because something is "wrong with them" either. Personally, I'm proud to say several men from my own past are good guys who are doing some amazing things. It's just that when it comes to my personal relationship with God and what he has called me to do, they are not my fit. I am not theirs either.
When you don't accept this and you still try and force things, it's a lot like my mom with that Krispy Kreme donut. Your mind and spirit may be saying, "Yeah, that's probably not a good idea" while your heart is on some "But it was so good *last time*..."
First of all, *was it?!* Was it really?
Second of all, have you taken into account that you were a different person back then?
One of my favorite quotes from my mom is "
God gives us someone for where we're going, not where we are. And the only one who knows where we're headed *is* him
." (Revelation 1:8). No wonder we're supposed to "walk by faith, not by sight" (2 Corinthians 5:7) even when it comes to matters of the heart and our journey towards our beloved (Genesis 2:22). If you only want someone based on who you were or are now, you may choose *very poorly*.
Case in point. Fairly recently, I "ran into" (Proverbs 16:33--AMPC) an ex. Back when we broke up, I was so upset with the Lord and the guy (pretty much in that order) that I spent all that time with nothing really to show for it.
Oh, but the woman I've become? As I was talking to the guy, it was like having an out-of-body experience. I see how we became friends. I have no clue how we became a couple, though. And while I will always care for him and want the best for his life, I get now that he's like that Krispy Kreme donut---my memories were telling me one thing but my tastes have changed. Interacting with him is just not the same experience. Anymore. And if I tried to force it to be what it was simply because of how things used to be or because I am still freakin' single and abstinent or even because there are parts of our interaction that I miss...it would probably just make us both sick. And waste even more time.
This is the kind of post that ain't for everybody, but for some...things really will "click".
That lead quote? It's all kinds of an "ouch" but it's true...
Some men are nothing more than the memories of a Krispy Kreme donut...
Let 'em go.
His Purpose, His Presence, His Peace...
SRW
Monday, April 3, 2017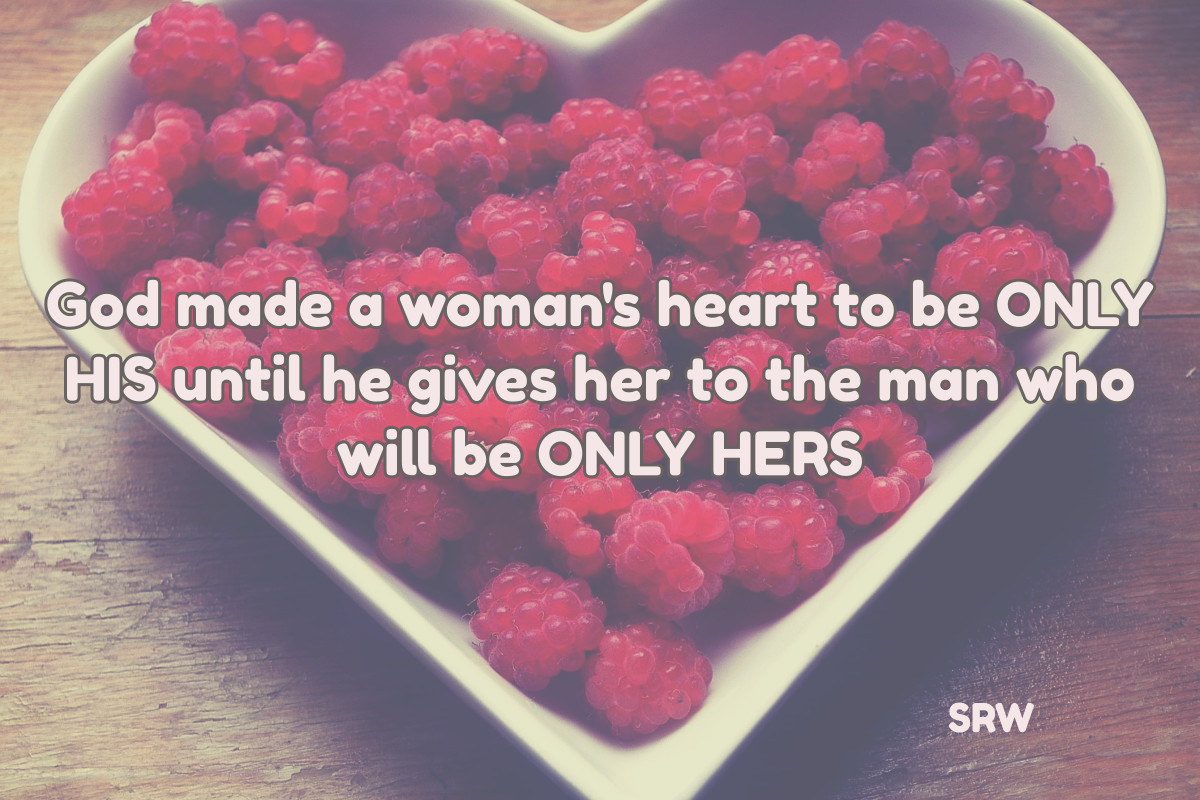 "Keep and guard your heart with all vigilance and above all that you guard, for out of it flow the springs of life."---Proverbs 4:23(AMPC)
I say it at least a couple of times a week now...
I *hate* (one definition of hate is "unwilling", by the way) boyfriend and girlfriend relationships.
1) They're not biblical.
2) They put people in the position to be sexually-compromising.
3) They encourage individuals to "act married" when they're NOT married.
4) They oftentimes leave folks emotionally-devastated, fearful and bitter.
5) They teach people more about how to divorce than how to remain together.
6) They trivialize marriage.
7) They rob people of the opportunity to build a true friendship.
8) They apply *way too much pressure*---across the board.
9) They influence people to "demand" what they did not *earn*.
10) They're spiritually-irresponsible in a lot of ways.
Did I mention they're not biblical?
No one needs a "test run", sexually or emotionally, before getting married.
FRIENDSHIP is what should be the focus and priority for single people.
As I was praying about the "On Fire" gals, as it relates to this topic, "first loves" are what came to mind. I shared on my post a couple of years ago entitled "
Do You Have All of Your HEART PIECES (Back)???
" my journey towards getting over a man whom I loved (based on what I knew about love at the time) for two decades. Even though I had dated other guys, slept with other guys and had a few boyfriends since him, there continued to be a part of me (a part that was bigger than I thought) who was comparing other guys to him and holding out hope that we would end up together.
Why?
For one thing, he was the first person *I consented* to be sexually-involved with (remember, I was sexually molested by a family member).
Another reason is because I got pregnant by him (and aborted---click
here
to read about how someone you conceive a child with becomes a part of your DNA for the rest of your life, whether you carry the child to term OR NOT).
Another reason is because he was someone who was just as attracted to me and loved me back just as much (that's rare to find).
As I've been healing, in some truly superhuman ways, from my past relationships (if you're not abstinent, *get abstinent*. It's a life-changer!--I Corinthians 6:16-20--Message), something I realize is that if you don't *really, truly, fully and completely HEAL* from your past...you won't be in the best possible state for your future. And since past loves tend to be HIGHLY-INFLUENTIAL on us (who in the Bible did you know who "got together and broke up"?!), if we don't do the self-work and ponder (Proverbs 4:26) how it influenced and impacted us...we can end up choosing a life partner out of brokenness, not wholeness (James 1:4).
So, I'm pitching an invite to participate in a way to heal from your first love by doing this:
1) Share the biggest lesson you learned from your first love.
2) Share the greatest regret you have from your first love.
3) Share how your first love has affected how you view love/relationships now.
4) Share how the ending of the relationship impacted you.
5) Share the qualities you want/don't want that your first love had.
I don't mean the "first love" like your first crush in elementary school...
I mean the first love that had you honestly believing there would be no one else. THAT GUY.
The Word says, "
Confess to one another therefore your faults (your slips, your false steps, your offenses, your sins) and pray [also] for one another, that you may be healed and restored [to a spiritual tone of mind and heart]. The earnest (heartfelt, continued) prayer of a righteous man makes tremendous power available [dynamic in its working].
" (James 5:16--AMPC)
As you confess (shoot them over to
missnosipho@gmail.com
), I'll be praying. With some of y'all's permission (feel free to use an alias), I will post some of the confessions and provide some tips on how to make sure you have all of your heart back. Those who participate, there will be something special in store.
God really is making sure that we are WHOLE-HEARTED WOMEN *before* marriage...
My prayer is that you will take advantage of *every opportunity* he bestows.
Oh, and I'm a signs-and-wonders gal (Daniel 4:1-2), so I created a picture quote (including the quote) from a heart-shaped bowl of raspberries because the health benefits of that fruit include: a healthy heart, a boost in fertility and balanced moods. I thought that was pretty cool!
His Purpose, His Presence, His Peace...
SRW
Sunday, April 2, 2017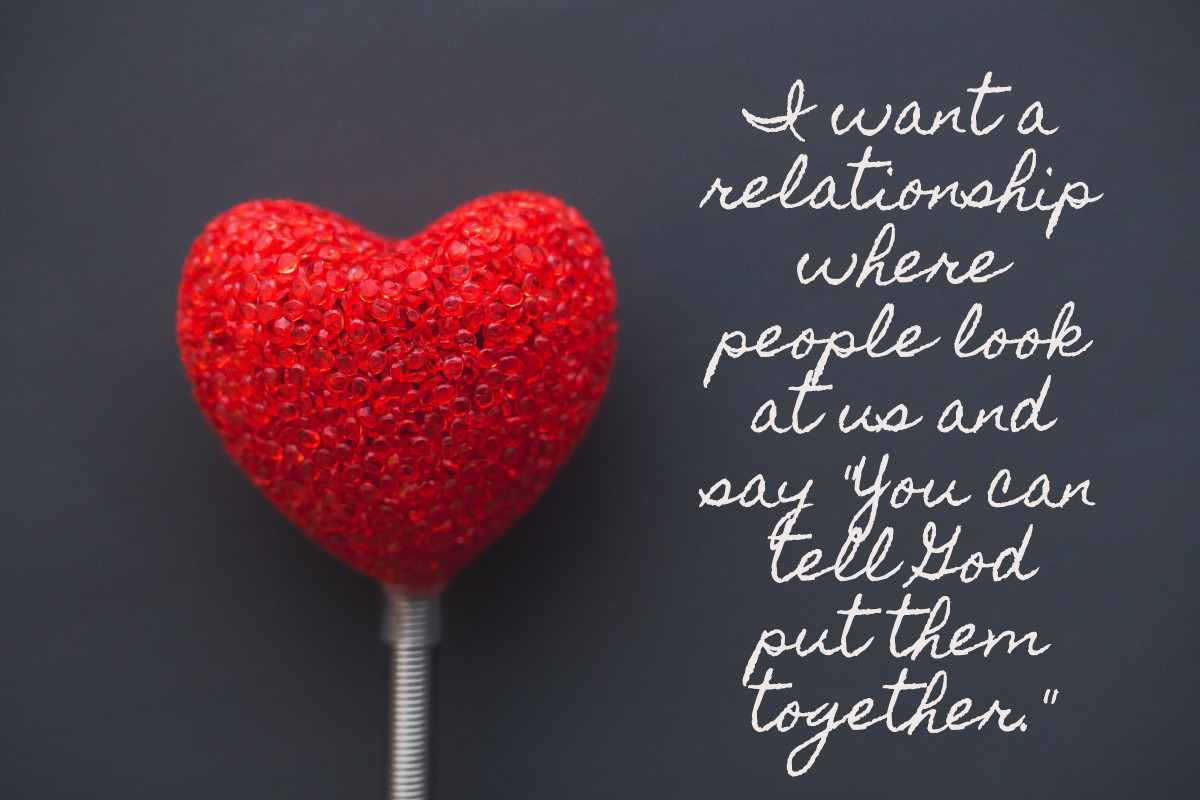 "And the Lord God caused a deep sleep to fall on Adam, and he slept; and He took one of his ribs, and closed up the flesh in its place. Then the rib which the Lord God had taken from man He made into a woman, and He brought her to the man.
And Adam said: 'This is now bone of my bones and flesh of my flesh; she shall be called Woman, because she was taken out of Man.'"---Genesis 2:21-23(NKJV)
And THE LORD caused...
And THE LORD took...
And THE LORD brought.
THEN Adam praised GOD'S WORK.
So...
This past week, I read two quotes that stuck with me:
"Trust God's timing, don't seek something simply because you see others with it."---Godly Dating
"Don't underestimate the way your actions can change what's 'meant' for you."---Rob Hill Sr.
They're both powerful in their own way...
The first one because I get emails all the time of single women who are upset about not being married. And, what they compare their anxiety to (Philippians 4:6-7) is being tired of being "always a bridesmaid", tired of going to yet *another wedding*...tired of their friends getting married and having children. Tired of being the only one who isn't.
It's understandable. We're all human. Yet do you know a commandment that isn't preached about nearly enough? COVETING: "
You shall not covet your neighbor's house, your neighbor's wife, or his manservant, or his maidservant, or his ox, or his donkey, or anything that is your neighbor's
." (Exodus 20:17--AMPC) It doesn't only mean "to desire wrongfully, inordinately, or without due regard for the rights of others" but "to wish for, especially eagerly".
Is there something wrong with wishing? Is there something wrong with "wanting", "desiring" or "longing"? No. Yet being *eager* about it? Eager means "impatiently longing" and
the Bible *never* recommends impatience. Ever.
Love is patient (I Corinthians 13:4--AMPC), remember? Patient ain't an easy word, either:
Patient:
bearing provocation, annoyance, misfortune, delay, hardship, pain, etc., with fortitude and calm and without complaint, anger, or the like
Did you peep the part about NOT COMPLAINING and NOT BEING ANGRY?
If you can't master being patient with God...
How can you even possibly get close to being patient with a husband?
The steps of a good person are ordered (Psalm 37:23)...
We are to follow each and every one God places before us (2 Corinthians 5:7).
A quote (by Bill Hybels) that I've been rocking with for a minute now is "God is no more intimidated by childish demands for instant gratification than wise parents." It reminds me of two Scriptures:
"For your Father knows the things you have need of before you ask Him."---Matthew 6:8(NKJV)
"If a son asks for bread from any father among you, will he give him a stone? Or if he asks for a fish, will he give him a serpent instead of a fish? Or if he asks for an egg, will he offer him a scorpion? If you then, being evil, know how to give good gifts to your children, how much more will your heavenly Father give the Holy Spirit to those who ask Him!"---Luke 11:11-13(NKJV)
Should you feel bad for wanting what you want? No. Yet according to Scripture it is important to 1) seek the Lord about if your desire(s) line up with his (James 1:14-15, I John 5:14-15); 2) pray about God revealing your truest motives (Proverbs 21:2&8--Message) and cast your cares, *all of them*, on him (I Peter 5:6-7). Casting means "to hurl". It's not easy sometimes. It *is* biblically required, though.
And that Rob Hill, Jr. quote? It'll preach! Louder than a lot of us want to hear...
If you know you're doing things that are contrary to Scripture, don't assume that it will not alter your future. In other words, be careful about living by the motto of "If it's meant to be, it will be" while you're out here doing whatever you want. Whenever you want. It wasn't "meant to be" that Adam and Eve sinned. *Their choices* (Genesis 3) led to that outcome. And it changed things. *A lot of things*. Drastically so. We're *still* dealing with the consequences of what they did. Choices can be just that powerful.
If you know you're compromising yet you want to be in something as GODLY as marriage? STOP.
You don't need to "come up with ways" to meet or marry your future husband.
On the days when you struggle with believing that, go back to the Garden of Eden (Genesis 2). Back to where marriage began. Where *God* decided that it was time for Adam to have a wife. Where *God* made her, just for him. Where *God* brought her to him too.
Adam wasn't going through over-the-top extremes to capture her heart.
The Woman wasn't playing hard to get---or any games.
Both individuals were in God's will, trusting God's way---and timing (Acts 1:7---Message).
And that's what makes the picture quote up top so...beautiful...
There are a lot more people out here who simply want to "get married"...
Than people who want to look like GOD is the One who put them with someone.
God is holy (I Peter 1:16).
WHAT HE DOES IS HOLY.
RELAX (Jude 1-2--Message) and let God do his thing.
Between him, you and your future husband, he's the ONLY ONE whose work is perfect (Deuteronomy 32:4).
Out of the three of you, he's the ONLY ONE who should be putting you and yours together!
LET. HIM.
His Purpose, His Presence, His Peace...
SRW