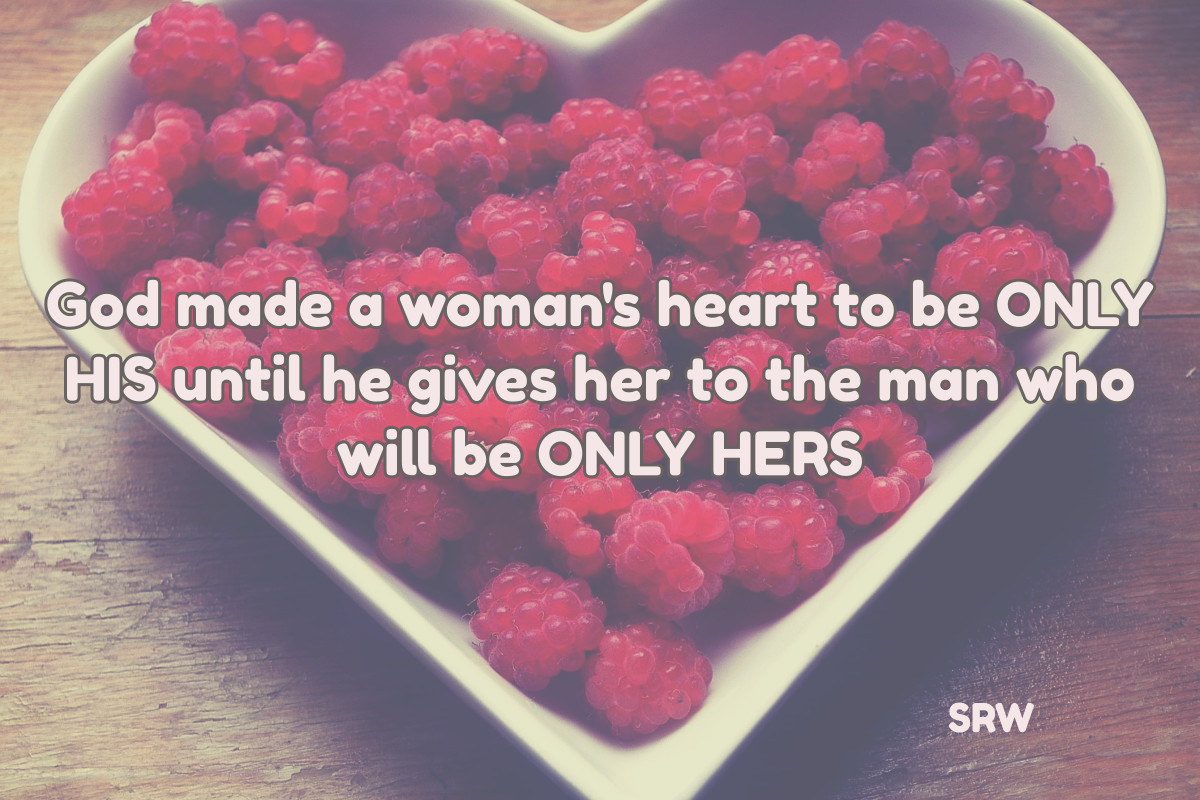 "Keep and guard your heart with all vigilance and above all that you guard, for out of it flow the springs of life."---Proverbs 4:23(AMPC)
I say it at least a couple of times a week now...
I *hate* (one definition of hate is "unwilling", by the way) boyfriend and girlfriend relationships.
1) They're not biblical.
2) They put people in the position to be sexually-compromising.
3) They encourage individuals to "act married" when they're NOT married.
4) They oftentimes leave folks emotionally-devastated, fearful and bitter.
5) They teach people more about how to divorce than how to remain together.
6) They trivialize marriage.
7) They rob people of the opportunity to build a true friendship.
8) They apply *way too much pressure*---across the board.
9) They influence people to "demand" what they did not *earn*.
10) They're spiritually-irresponsible in a lot of ways.
Did I mention they're not biblical?
No one needs a "test run", sexually or emotionally, before getting married.
FRIENDSHIP is what should be the focus and priority for single people.
As I was praying about the "On Fire" gals, as it relates to this topic, "first loves" are what came to mind. I shared on my post a couple of years ago entitled "
Do You Have All of Your HEART PIECES (Back)???
" my journey towards getting over a man whom I loved (based on what I knew about love at the time) for two decades. Even though I had dated other guys, slept with other guys and had a few boyfriends since him, there continued to be a part of me (a part that was bigger than I thought) who was comparing other guys to him and holding out hope that we would end up together.
Why?
For one thing, he was the first person *I consented* to be sexually-involved with (remember, I was sexually molested by a family member).
Another reason is because I got pregnant by him (and aborted---click
here
to read about how someone you conceive a child with becomes a part of your DNA for the rest of your life, whether you carry the child to term OR NOT).
Another reason is because he was someone who was just as attracted to me and loved me back just as much (that's rare to find).
As I've been healing, in some truly superhuman ways, from my past relationships (if you're not abstinent, *get abstinent*. It's a life-changer!--I Corinthians 6:16-20--Message), something I realize is that if you don't *really, truly, fully and completely HEAL* from your past...you won't be in the best possible state for your future. And since past loves tend to be HIGHLY-INFLUENTIAL on us (who in the Bible did you know who "got together and broke up"?!), if we don't do the self-work and ponder (Proverbs 4:26) how it influenced and impacted us...we can end up choosing a life partner out of brokenness, not wholeness (James 1:4).
So, I'm pitching an invite to participate in a way to heal from your first love by doing this:
1) Share the biggest lesson you learned from your first love.
2) Share the greatest regret you have from your first love.
3) Share how your first love has affected how you view love/relationships now.
4) Share how the ending of the relationship impacted you.
5) Share the qualities you want/don't want that your first love had.
I don't mean the "first love" like your first crush in elementary school...
I mean the first love that had you honestly believing there would be no one else. THAT GUY.
The Word says, "
Confess to one another therefore your faults (your slips, your false steps, your offenses, your sins) and pray [also] for one another, that you may be healed and restored [to a spiritual tone of mind and heart]. The earnest (heartfelt, continued) prayer of a righteous man makes tremendous power available [dynamic in its working].
" (James 5:16--AMPC)
As you confess (shoot them over to
missnosipho@gmail.com
), I'll be praying. With some of y'all's permission (feel free to use an alias), I will post some of the confessions and provide some tips on how to make sure you have all of your heart back. Those who participate, there will be something special in store.
God really is making sure that we are WHOLE-HEARTED WOMEN *before* marriage...
My prayer is that you will take advantage of *every opportunity* he bestows.
Oh, and I'm a signs-and-wonders gal (Daniel 4:1-2), so I created a picture quote (including the quote) from a heart-shaped bowl of raspberries because the health benefits of that fruit include: a healthy heart, a boost in fertility and balanced moods. I thought that was pretty cool!
His Purpose, His Presence, His Peace...
SRW