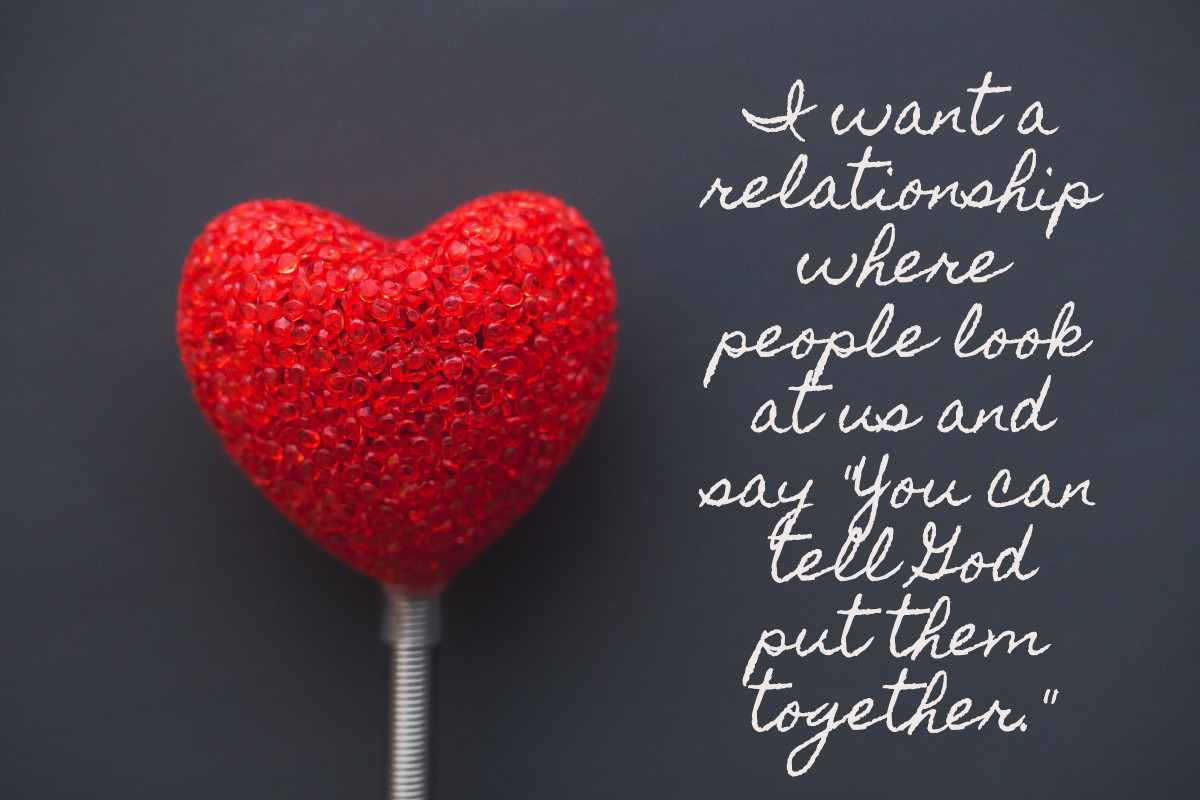 "And the Lord God caused a deep sleep to fall on Adam, and he slept; and He took one of his ribs, and closed up the flesh in its place. Then the rib which the Lord God had taken from man He made into a woman, and He brought her to the man.
And Adam said: 'This is now bone of my bones and flesh of my flesh; she shall be called Woman, because she was taken out of Man.'"---Genesis 2:21-23(NKJV)
And THE LORD caused...
And THE LORD took...
And THE LORD brought.
THEN Adam praised GOD'S WORK.
So...
This past week, I read two quotes that stuck with me:
"Trust God's timing, don't seek something simply because you see others with it."---Godly Dating
"Don't underestimate the way your actions can change what's 'meant' for you."---Rob Hill Sr.
They're both powerful in their own way...
The first one because I get emails all the time of single women who are upset about not being married. And, what they compare their anxiety to (Philippians 4:6-7) is being tired of being "always a bridesmaid", tired of going to yet *another wedding*...tired of their friends getting married and having children. Tired of being the only one who isn't.
It's understandable. We're all human. Yet do you know a commandment that isn't preached about nearly enough? COVETING: "
You shall not covet your neighbor's house, your neighbor's wife, or his manservant, or his maidservant, or his ox, or his donkey, or anything that is your neighbor's
." (Exodus 20:17--AMPC) It doesn't only mean "to desire wrongfully, inordinately, or without due regard for the rights of others" but "to wish for, especially eagerly".
Is there something wrong with wishing? Is there something wrong with "wanting", "desiring" or "longing"? No. Yet being *eager* about it? Eager means "impatiently longing" and
the Bible *never* recommends impatience. Ever.
Love is patient (I Corinthians 13:4--AMPC), remember? Patient ain't an easy word, either:
Patient:
bearing provocation, annoyance, misfortune, delay, hardship, pain, etc., with fortitude and calm and without complaint, anger, or the like
Did you peep the part about NOT COMPLAINING and NOT BEING ANGRY?
If you can't master being patient with God...
How can you even possibly get close to being patient with a husband?
The steps of a good person are ordered (Psalm 37:23)...
We are to follow each and every one God places before us (2 Corinthians 5:7).
A quote (by Bill Hybels) that I've been rocking with for a minute now is "God is no more intimidated by childish demands for instant gratification than wise parents." It reminds me of two Scriptures:
"For your Father knows the things you have need of before you ask Him."---Matthew 6:8(NKJV)
"If a son asks for bread from any father among you, will he give him a stone? Or if he asks for a fish, will he give him a serpent instead of a fish? Or if he asks for an egg, will he offer him a scorpion? If you then, being evil, know how to give good gifts to your children, how much more will your heavenly Father give the Holy Spirit to those who ask Him!"---Luke 11:11-13(NKJV)
Should you feel bad for wanting what you want? No. Yet according to Scripture it is important to 1) seek the Lord about if your desire(s) line up with his (James 1:14-15, I John 5:14-15); 2) pray about God revealing your truest motives (Proverbs 21:2&8--Message) and cast your cares, *all of them*, on him (I Peter 5:6-7). Casting means "to hurl". It's not easy sometimes. It *is* biblically required, though.
And that Rob Hill, Jr. quote? It'll preach! Louder than a lot of us want to hear...
If you know you're doing things that are contrary to Scripture, don't assume that it will not alter your future. In other words, be careful about living by the motto of "If it's meant to be, it will be" while you're out here doing whatever you want. Whenever you want. It wasn't "meant to be" that Adam and Eve sinned. *Their choices* (Genesis 3) led to that outcome. And it changed things. *A lot of things*. Drastically so. We're *still* dealing with the consequences of what they did. Choices can be just that powerful.
If you know you're compromising yet you want to be in something as GODLY as marriage? STOP.
You don't need to "come up with ways" to meet or marry your future husband.
On the days when you struggle with believing that, go back to the Garden of Eden (Genesis 2). Back to where marriage began. Where *God* decided that it was time for Adam to have a wife. Where *God* made her, just for him. Where *God* brought her to him too.
Adam wasn't going through over-the-top extremes to capture her heart.
The Woman wasn't playing hard to get---or any games.
Both individuals were in God's will, trusting God's way---and timing (Acts 1:7---Message).
And that's what makes the picture quote up top so...beautiful...
There are a lot more people out here who simply want to "get married"...
Than people who want to look like GOD is the One who put them with someone.
God is holy (I Peter 1:16).
WHAT HE DOES IS HOLY.
RELAX (Jude 1-2--Message) and let God do his thing.
Between him, you and your future husband, he's the ONLY ONE whose work is perfect (Deuteronomy 32:4).
Out of the three of you, he's the ONLY ONE who should be putting you and yours together!
LET. HIM.
His Purpose, His Presence, His Peace...
SRW