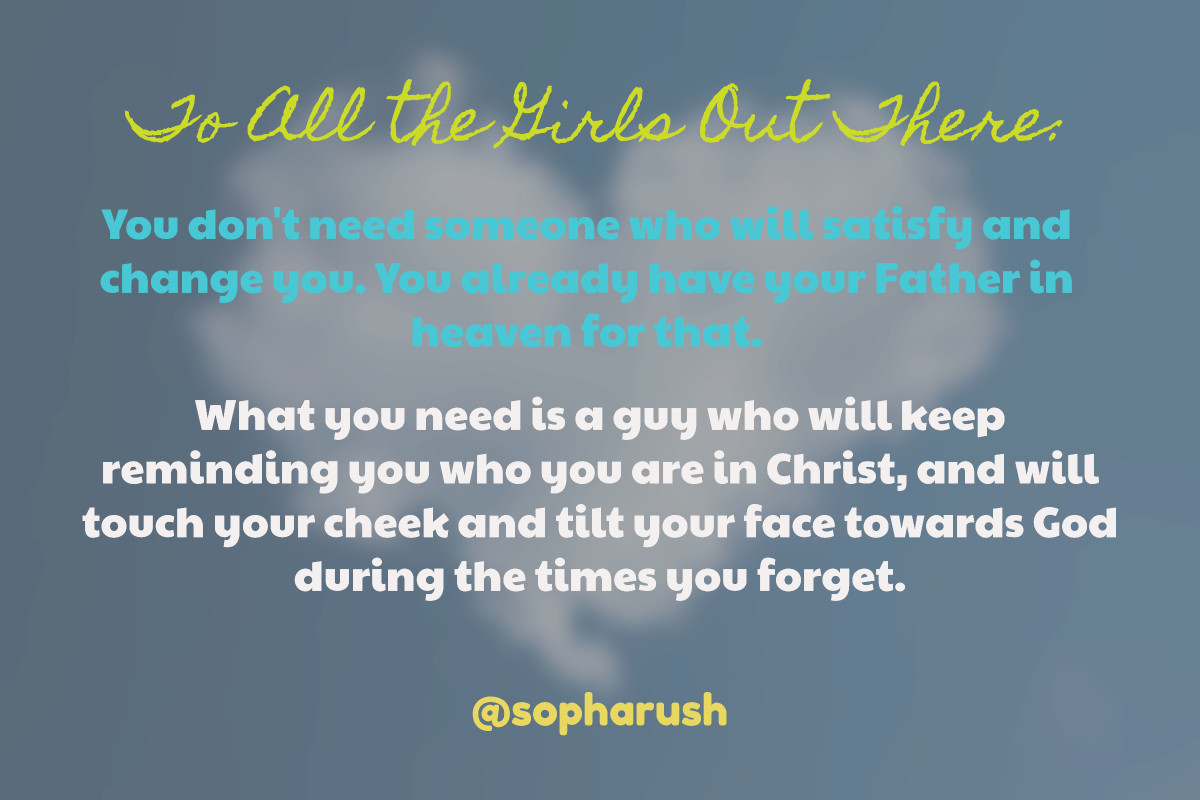 "And the Lord God caused a deep sleep to fall on Adam, and he slept; and He took one of his ribs, and closed up the flesh in its place. Then the rib which the Lord God had taken from man He made into a woman, and He brought her to the man."---Genesis 2:21-22(NKJV)
"Trust in the Lord with all your heart, and lean not on your own understanding; in all your ways acknowledge Him, and He shall direct your paths. Do not be wise in your own eyes; fear the Lord and depart from evil. It will be health to your flesh, and strength to your bones."---Proverbs 3:5-6(NKJV)
"The steps of a good man are ordered by the Lord, and He delights in his way."--Psalm 37:23(NKJV)
So...
On the heels of the post right below this one, I just wanted to share a couple of other points if you sense that you need to shift your focus from "Who is my husband?" to "God, help me to pay closer attention to where and how you are leading me." *Husband or not*.
I've always liked that in the Garden of Eden (Genesis 2), Adam and the Woman didn't have to do ANY hunting down or pursuing (or "courting manipulation"). All they had to do was have a relationship with the Most High, be in purpose and trust him.
Not themselves...HIM.
And, at the right time, the Woman was *brought* (some translations say "presented") to Adam.
Brought:
simple past tense and past participle of bring
Bring:
to carry, convey, conduct, or
cause
(someone or something) to come with, to, or toward the speaker; to cause to come to or toward oneself; attract; to cause to occur or exist; to cause to come into a particular position, state, or effect; to cause to appear or occur in the mind; evoke or recall; to persuade, convince, compel, or induce
The word "cause" is used quite a bit, so let's look at its definitions too:
Cause:
a person or thing that acts, happens, or exists in such a way that some specific thing happens as a result; the producer of an effect
Genesis 2:22(NKJV) says "
Then the rib which the Lord God had taken from man He made into a woman, and He brought her to the man
."
After God made the Woman from Adam's rib, "he was the One who acted in a specific way to bring about the results that would cause Adam and the Woman to come toward one another, be attracted to each other, get into a particular position for one another, bring each other to one another's minds and persuade and convince both of them that they were right for one another".
God did this...
GOD.DID.THIS.
My personal takeaway?
We don't need to be focused on who are husband is...
Nearly as much as who GOD is!
In the article "
Lesson 48: Knowing God's Guidance—Especially in Choosing A Mate (Genesis 24:1-67)
", the author shares these points (excerpts):
If you're single, it's crucial to seek God's guidance and to obey Him in choosing a mate, because except for trusting Christ as Savior, whom you marry is the most important decision you'll make in life. The overall principle of our text is that

God will guide us when we walk with Him and are committed to His purpose.

Under that overall theme, I want to give five principles on how to know God's guidance. These are not comprehensive and they are not a formula to plug into your computer. But I think they will help.

1. To know God's guidance we must be unswerving in our commitment to God and His purpose.
To know God's guidance we must put aside our own will and seek the will of the God who has called us. That is the basic principle in determining the will of God in any situation--to empty yourself, as much as you are able, of your own will and to commit yourself to seeking and obeying God's will. As you seek first God's kingdom and righteousness, He will reveal the specific steps you need to take as you need to know them. But if you claim to want to know God's will, but you're not willing to do it unless it agrees with your will, you're kidding yourself. All you really want is God's approval of your plans. But you'll never know God's direction that way. God reveals His will to those who are committed to doing it.
2. To know God's guidance we must move out in obedience accompanied by common sense.

Sometimes we get super-spiritual about this matter of determining God's will, especially as it pertains to finding a mate. In college I heard speakers say that we should just trust God for a wife. I felt like if I went to a Christian gathering to look for a Christian girl to date, I was really carnal! I bought that for a while. But I remember one time after I hadn't had a date for about two years, I was on my knees pleading with God for a wife when I realized that He wasn't going to bring her floating through the window like the old Hertz rent-a-car ads. The Lord was saying to me, "At least go where there are some prospects!"

That's what Abraham's servant did. He didn't start hanging out at the local bars or discos in Canaan. He went where he could find a godly young woman from Abraham's relatives, as Abraham had told him to do. So obey God and use the common sense He gave you. You won't find a godly mate in bars. Don't go there! You may find a godly mate at church. Go there! That's not super-spiritual. But I think it's biblical!
3. To know God's guidance we must seek and expect it, while submitting to His sovereign ways.

So often we don't experience God's guidance because we get so caught up doing our own thing that we fail to stop and ask God to reveal His will to us. Or we get into our established routine, and it takes a catastrophe for God to get our attention so He can let us know what He wants us to do. So if you want God's guidance, stop and ask Him for it, expect Him to give it, and wait long enough to listen to what He might have to say. "For all who are being led by the Spirit of God, these are sons of God" (Rom. 8:14).

But what if God doesn't say anything? Maybe you're waiting for the wrong kind of communication...

The answer is that when you seek and expect God's guidance, and remain submissive to God's sovereign ways, He providentially orchestrates circumstances in such a way as to confirm His will.

4. To know God's guidance we must apply God's wisdom.
Look for godly character qualities above all else in a prospective mate.
Finding the right person depends on being the right person.
Seek the wisdom of your parents.
Marriage is the foundation for love; love is not the foundation for marriage.

To know God's guidance we must: (1) Be unswerving in our commitment to God and His purpose. (2) Move out in obedience accompanied by common sense. (3) Seek and expect it, while submitting to His sovereign ways. (4) Apply God's wisdom.
5. To know God's guidance we must bathe the whole process in prayer and constant fellowship with God.

The longer I'm a Christian, the more I believe that finding God's will isn't a matter of some formula. It's a matter of walking in constant fellowship with the Lord, taking everything to Him in prayer. When you know that prayer is behind your circumstances, then that which otherwise may seem to be a coincidence turns out not to be a coincidence at all. Your steps are ordered by the Lord. When you walk with Him and are committed to His purpose, He will work quietly behind the scenes of your life, leading you through potential hazards, not always leading as you might have hoped, but still leading, putting all the pieces together. The process becomes a beautiful blending of God's faithfulness and sovereignty and of our obedient trust in Him.
Confirmations are awesome! And, this confirms a lot of what I posted on yesterday.
If you want your "towards your husband" experience to be like Adam and the Woman's...
As a woman, you need to follow God, as he *brings you* to your husband.
This means you need to trust him with your ALL...
This means you need to acknowledge him in EVERYTHING...
This means you are going to have to place HIS WISDOM above your own...
This means you're going to have to DEPART FROM EVIL...
This means you're going to have to TAKE ORDERS from God.
So many folks are out here trying to "negotiate with God" rather than DOING JUST WHAT HE SAYS---and it's costing them. And honestly, this is a part of the reason why so many women get shook up about who their husband is. Somewhere inside, they know their relationship with God is not where they want it to be and/or they know they are compromising his Word and/or they are ONLY focused on following what God says, so long as they think it will "guarantee them a husband"---not simply because God is sovereign (Psalm 18) and always knows what's best. And who is the best for us. At just the right time (Ecclesiastes 3:11, Acts 1:7---Message).
It's a new month.
On the calendar, the fifth month of the year: May.
"5" biblically symbolizes grace (Hebrews 4:16).
If you desire to be married, ask God to put you in the position to BRING YOU to your husband.
Then make the decision---no, COMMITMENT---to go wherever God LEADS you.
It will require walking by faith and not by sight (2 Corinthians 5:7)...
It will also bring peace because you'll realize that it's in God's hands and his way is perfect (Deuteronomy 32:4).
And since the Most High is FLAWLESS in ALL THINGS...
All you have to do is RELAX (Jude 1-2--Message) and TRUST HIM!
His Purpose, His Presence, His Peace...
SRW